The team here at jobs.ac.uk celebrated our 20th anniversary at our second annual at HE Recruitment conference in November. We invited a panel of experts to Radcliffe Conference Centre at the University of Warwick, to discuss how universities can evolve to overcome sector-specific challenges. The programme was packed with engaging sessions to stimulate discussion, share best practice and encourage valuable networking opportunities. We gained recruitment insights from the BBC, Advance HE, Ph.Creative and Two Heads Consulting.
To ensure the resources from the event are easily accessible, we have created a dedicated landing page where you can find all of the presentation slides from the conference sessions.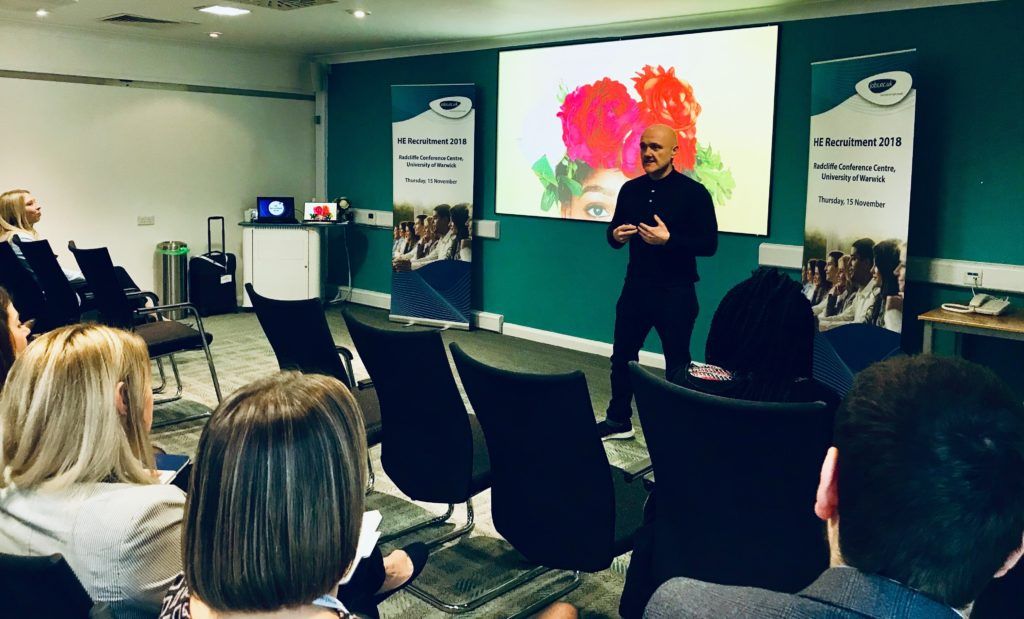 The first session was brought to us by Dave Hazlehurst, Director at Ph.Creative. Dave gave us a look into what he has learned working with global brands, finding out what their secrets are and how to use this when attracting talent. He also provided us with techniques, tactics and approaches that Ph.Creative find best for different kinds of candidates.
Beenu Rudki, Head of Immigration at K2 Corporate Mobility then gave us an insight into what we need to know about Brexit. Beenu navigated through the online application process for EU nationals and their family members to become pre-settled or settled. This session gave us the opportunity to ask specific questions, to understand the implications and address common pitfalls of the process from a UK employer's perspective.
In a thought-provoking session, we were talked through the tools for promoting equality, diversity and inclusion in recruitment by Mark Holleran, Director at SearchHigher and Ellen Pugh, Senior Advisor at Advance HE. Mark and Ellen examined key mechanisms commonly being used in the sector to improve equality during the recruitment processes, including unconscious bias training for panellists, as well as looking at implications for pay gap reporting on recruitment in the future.
Emma Durrant and George Marshall from the Compliance team at Warwick Employment Group then shed some light on how to protect your university from the risk of illegal work, when managing Tier 4 visa restrictions in the workplace.
A session on recruitment trends and challenges was also brought to us by Mervyn Dinnen, HR and Talent Trends Analyst at Two Heads Consulting. Mervyn used exclusive research to show how modern employee expectations are changing, and explained why the 'new talent journey' is changing the way we attract, hire, develop and retain the people we need.
Finally, we engaged in an interesting session from the BBC's HR Director (Resourcing and Talent), Catherine Hearn, who talked us through a selection of key recruitment challenges facing today's HR professionals. Using her experience at the BBC, Catherine provided original examples, shared lessons learned and best practice, which delegates could then take away with them.
To close off the day's sessions, everybody got together to celebrate the jobs.ac.uk 20th anniversary with cake and champagne. It was a pleasure to see so many institutions from across the UK engaging with our sessions, speakers and peers from other universities.