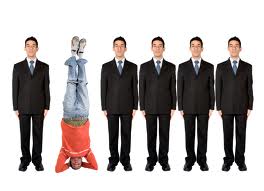 Standing out from the crowd
We don't all have to do stand-up comedy to stand out, but humour in the right way and at certain moments can be helpful in getting noticed among the reams of applications and potential candidates for jobs. Humour can convey some of our personality and show others our human side – something that can warm others to us and be an attractive quality when 'selling' ourselves to potential employers.
When humour can help (and when it can't)
In applications, humour can be appropriate, just avoid too many exclamation marks!!!! It doesn't make a joke funnier, or even funny!!!! It will make you stand out but not necessarily in a good way!!!! You get my point. Subtlety is the key. And don't replace the important stuff with something that you think is funny, unless you are actually applying for a position as an in-house comedian.
Humour can diffuse tense situations. When we are nervous or anxious it can paradoxically be better to outright name it rather than try to cover it up where we may find ourselves fluffing things up further. Nerves are normal, expected, and others relate to them. I was delivering a presentation recently and injected some self-deprecating humour by sharing that I had visions of tripping up and making a fool of myself, which not only eased my own nerves but also related to a particular point I was making in the talk. So, when situations feel tense and to convey messages in a memorable way, humour works.
It is easy to make ourselves the centre of a joke, more dangerous when we direct that humour towards another. Interestingly, females have been shown to use more self-deprecating humour than males. It's important not to take this too far though: we don't want to completely denigrate ourselves to the point when others start to think that we are incompetent! Striking the balance is important; emphasising our skills and qualities whilst not taking ourselves or life too seriously.
Laughing and making jokes about others can serve various functions: forming alliances; affirming ourselves ('Gosh isn't the boss awful! Aren't we all wonderful people though; we'd never do such a thing…'); checking out on some level how our beliefs and actions align with those of others. Care must be taken, especially when we are in situations where we are under judgement (i.e. applications, interviews), in not taking a joke too far. If others see us joking about another person, it could be construed as belittling or, at worst, bullying.
Men are stereotyped as being funnier than women. Whilst discussion of this is beyond this blog, what is interesting is the confidence that goes with telling a joke. There is evidence to suggest that what makes something funny can be helped along by assertively telling a joke ('it's not the joke itself but how you tell it'). I can speak from experience that I am not good at this. I get punch-lines wrong all the time. But then this itself can be funny, and again we're back to self-deprecation and not taking yourself too seriously…
Summary
So, a sprinkling of humour can be helpful to get you noticed and convey your human side and this can also apply in job-seeking situations. But be careful how you use it. Putting your old boss down is unlikely to make a potential new boss take you on. Maybe the safest target of jokes is yourself, or a confidently expressed joke away from potential controversy. Just take care not to laugh yourself out of a job by making yourself out to be One Big Joke.