Last week the jobs.ac.uk marketing team, including myself, attended the On the Edge Digital Marketing Conference organised by the UK Marketing Network in Birmingham.
The conference provided a day packed with ideas, new developments and interesting discussions around digital marketing and covered everything from Search Engine Optimisation and content marketing to the latest digital technologies.
Whilst most of the speakers shared some interesting insights, it was the presentation from Jeff Coghlan, Founder of Matmi, that really stood out as the most thought-provoking.
Matmi are an innovative digital agency that specialise in creating branded entertainment, games, apps, social experiences and as Jeff put it aim to 'put the fun back in digital marketing'.
Their interactive presentation included lots of discussion around how ground-breaking technology, such as Augmented Reality, could transform how businesses market to their audiences.
What is Augmented Reality (AR)?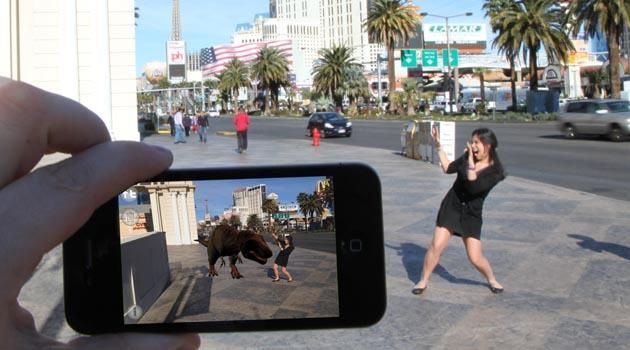 AR is a clever way to use technology to enhance your view of the physical world. AR effectively allows organisations to add digital content to printed material, geographic locations and objects. Using a smartphone or tablet, users can then scan the object to see the digital content, which can vary from a link to a website, a short video or even a 3D model.
One great example of Augmented Reality (AR) that Matmi showcased was the 'Smiler' game they had produced for UK theme park, Alton Towers. The game was created to promote the new Smiler rollercoaster and effectively allowed the user to build and ride their very own digital rollercoaster using just a mobile app and a park map. The results? The game was downloaded over 200,000 times, played 1.5 million times and generated more than 30,000 click-throughs to the Alton Towers website.
After the conference, this really got me thinking about how universities could apply this technology to recruitment?
After all, some universities are no strange to AR. University of Bath, for example, have used AR to bring their campus to life and Australian National University have used it to allow students to access online resources, such as lecture notes and recordings. Many institutions are even using AR technology within their prospectuses.
Just imagine…
Pointing your smartphone at a university department building (e.g. Maths building) and immediately seeing what jobs are available
A job advert which allows the user to watch short videos of life, culture and benefits at your university
A job advert which contains a video message from the Vice Chancellor or Dean 'welcoming' you to the institution
An exhibition stand at a careers fair which provides 3D tours of the campus, explore points of interest or watch videos of staff testimonials
A printed campus map which allows the user to explore a virtual campus
The benefits of AR are more even more apparent for international jobseekers that could use the technology to experience life working at your university like never before – without leaving their country of origin!
Of course, AR is still an emerging technology so who knows what it will look like in a years' time or even 5 years' time. But one things for sure, with an estimated 1 billion smartphone users worldwide, and the launch of Google Glass, AR technology will provide university recruiters with a whole heap of new opportunities in which to engage with jobseekers.
What are your thoughts on AR technology for recruitment? Sound off in the comments below.