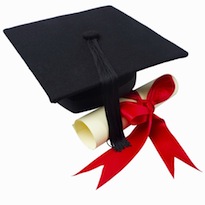 If you've been teaching English as a foreign or second language for a few years, you might be considering the next steps in your English language teaching career.
In this blog post, I discuss some of the most important factors to consider when deciding whether to undertake a Masters degree in teaching English as a second or foreign language.
Is an MA in TEFL/TESL a required qualification?
The first thing you need to do is to carefully research the qualifications that are generally required for the kind of teaching positions you intend to apply for in the future.
For direct-hire full or part-time English teachers at Japanese universities, an MA in TEFL/TESL is almost always required (check the job listings at JALT or JACET, for example). However, some private language schools may value the DELTA more highly, whereas international schools often require a PGCE and/or QTS. Check job listings to see which qualifications are most often requested by the kind of institutions you hope to be employed by.
Is the course content interesting to you?
The second important factor you should consider is the course content of the Masters degree you are thinking of undertaking.
You will be studying for the MA for at least a year, and possibly much longer. If the content of the course isn't interesting in itself, you will find it very hard to remain motivated for the duration of your studies. This is especially important if you intend to undertake an MA through distance study, as you will have no regular face-to-face contact with your teachers or classmates, and you will have to remain self-motivated for the duration of the course.
One further factor to bear in mind is that some Masters degrees in TEFL/TESL tend to be more focused on research and theoretical understandings of English language learning and teaching, as opposed to the perhaps more practical 'bread and butter' focus of other teacher training qualifications.
That's not to say you won't become a better teacher by completing an MA in TEFL/TESL – you most certainly will. However, improvements to your teaching may come about through a better understanding of the theories, approaches, philosophies, and methods of English teaching, and not necessarily through an improved knowledge of  games, activities or techniques to utilize in your lessons.
Is the institution a reputable one?
There are a more than a few unscrupulous online 'universities' offering 'courses' and 'qualifications' ranging in quality from fair to extremely dubious. Use common sense, trust your instincts, and if in doubt, stick with accredited, internationally recognized universities, which have actual physical campuses, to ensure that you do not end up spending a lot of time and money on a 'mickey mouse' degree.
Does the course/institution provide networking opportunities?
Networking is vitally important, both during and after your MA studies. A good network of classmates can help you locate publications, give you feedback on your degree papers, and help keep up your morale throughout the course.
Additionally, when it comes to finding teaching positions, a good network of academic and professional acquaintances is invaluable. Of the five university teaching positions I've had to date in Japan, four were found through friends (or friends of friends) I met through undertaking my Masters degree, and one was found through a mailing list affiliated with the degree.
In summary
If you answered 'yes' to all of the above questions, then I cannot recommend taking a Masters degree in TEFL/TESL highly enough. It will involve lots of hard work, and it will stifle your social life for some considerable time. But it will also open up new social opportunities in the form of professional networking, and ultimately provide you with an extremely valuable qualification for advancing your TEFL career.
Recommended institutions
The following institutions are recommended providers of Masters degrees in TEFL/TESL:
University of Birmingham, UK (Distance)
Temple University, Japan (On Campus)
Aston University, UK (Distance)
A comprehensive list of other MA TEFL/TESL course providers can be found here.