Deciding where to spend your valuable recruitment budget is always a challenge. At jobs.ac.uk we recognise this issue so earlier this year we collaborated with some of our UK university customers to research the most effective sources of recruitment across the Higher Education sector.
The purpose of the research was to understand how universities attract applicants and more importantly, which media delivered the best quality candidates that ultimately got hired.
So what research did we do?
We analysed recruitment data from 8 UK universities which provided insights on a total of 77,654 job applications, 7,194 interviews and 2,482 university appointments.
Unlike other studies, our research also only uses independent recruitment data taken directly from the university's own Applicant Tracking System (ATS) which is in turn based on automated source tracking – further eliminating any bias!
With the research complete, we're now excited to be able to share the results and the differences in effectiveness is staggering!
Highlights from the report include:
jobs.ac.uk provides universities with more appointments than any other external source
jobs.ac.uk is over ten times more effective than other external media sources combined in appointing academic and research staff
Online sources attracted 82% of university appointments compared to just 18% from offline sources
The university's own recruitment pages were the most effective source of applications, interviews and appointments
Social media did not yield any applications, interviews or appointments
Download the free report today to get the latest data on university recruitment effectiveness and insights on how to measure and improve your recruitment strategy.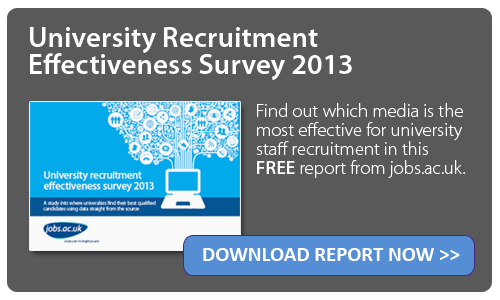 Interested in taking part next year? If you're a university and would like to take part in next year's effectiveness study, please email Carl Freelove, Markeitng Manager at carl@jobs.ac.uk.