As part of jobs.ac.uk's long-term commitment to supporting postgraduate study, we've recently launched a dedicated 'Find PhDs' portal at www.jobs.ac.uk/phd.
The new PhD portal has been has been designed alongside feedback from our postgraduate audience to help make finding PhDs on jobs.ac.uk even easier.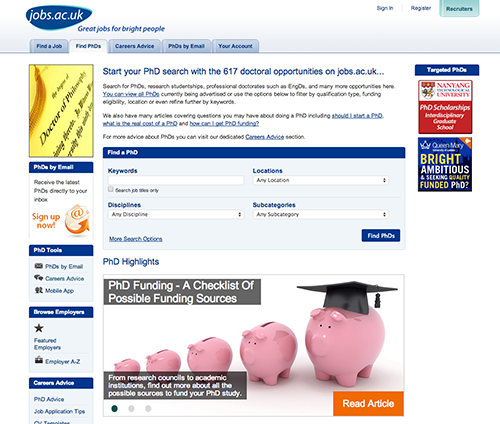 The new portal has lots of great features such as:
New PhD specific search filters – quickly and easily search PhDs by discipline, location, funding amount, eligibility, qualification and organisation
PhD advice – useful articles and ebooks to help support the postgraduate journey including how to find a PhD, funding and more
Latest PhDs – instantly view a feed of the latest PhD opportunities on jobs.ac.uk
Advertise your PhDs now
Looking to advertise a PhD? In addition to the new PhD portal, we have also launched four new PhD products to help recruiters to advertise their PhDs to postgrads much more effectively.
You can find out more about how to advertise your PhDs using our new PhD products here.