This question often strikes fear in the heart of an interviewee. Where should you begin? Does the panel really want to know about the brilliant conkers battle you had in primary school? Or should you stick to only discussing your last job? Or maybe something nice and balanced in the middle? Tricky.
These type of very open questions are posed at interview are to literally open up an interview. So you don't need to be too narrow and only concentrate on just one or two key attributes about you. You can introduce more general aspects about yourself that make you ideal for the job. The key thing is these 'more general' aspects still need to show you in a positive light and what you will bring to the post.
Recent work at the C2 Careers Consultancy, University of London highlighted that essentially all interviewers are looking for three things:
Can you do the job? This is about your skills, experience and knowledge
Will you do the job? This is about your motivation, commitment and drive
Will you fit in? Are you a team-fit? Do your values align with ours?
The 'tell me about you' type of questions really go into this latter part. They really help show if you'll fit into the organisation. It gives you a chance to bring in aspects of your personality and experience that gives a more grounded and 'whole' view of you (which in turn depends on your view of yourself).
So how to tackle these very broad questions well? Break it down into two stages can help the 'rabbit in the headlights' initial feeling you might have.
Step one: Think about the job – you are here for the job so start with that. Focus on skills and abilities that are key to the position. You can say something about what kind of person you are (think about how a good friend would describe you). You may want to say why you've chosen your career and course of study. Bring out skills and abilities gained from your experience.
Step two: Think about your career and education – work backwards and/or bring out the most relevant. If you have just finished your PhD and are applying for a postdoc position,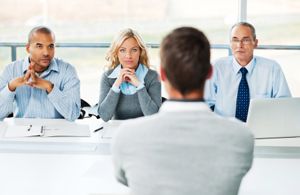 then doctoral studies are good to bring forward. If your PhD was twenty years back and the post you are applying for is looking at strategy and team management – the PhD is bound to take a backseat. If you can give a career summary of your work and education history it will probably form the "bulk" of your response, but do make it interesting.
The important thing is that your response must support your job objective. You will still need to ensure you bring out the relevance of your application to this job even though the question is very broad.
When broken down into manageable pieces, the question, "So, tell me about yourself?" isn't overwhelming. In fact, answering the question effectively gives you the opportunity to talk about your strengths, achievements, and qualifications for the position.