The Special One is hinting at getting a new job
Jose Morinho was seen buying boxes in Ikea, this for many, was the signal that he was planning a job change
http://www.guardian.co.uk/football/2013/may/06/jose-mourinho-ikea-chelsea-real-madrid
How are you indicating you want a new job to the bosses around you? Maybe like me, you're waiting to get snapped by hordes of photographers in the senior common room whilst casually looking at the jobs pages. If you are thinking about changing career or job it is a big step and as such needs some consideration.
Why move?
Essentially the first question to ask is why do you want to change career or job? It may well be because of the difficulty in your current job. It is often said people leave jobs because of bad managers. The stress of working in a place that doesn't suit you can be very hard, especially if you feel it's a place where you don't get rewarded or even recognised for your contribution. The effects of health and well-being are all too apparent. It's very worthwhile chatting to someone in HR (if you feel you want to) just to alleviate the stress and anger. It might even help the current situation.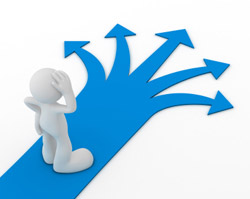 Important steps to think about before changing
Once you've decided yes, it's time for a change, then the next step is to examine the reasons why you want to go and the things you want from a new job. You're more likely to be successful in job hunting if you're fairly clear on what you want in your next job. Is it career progression? More money? Recognition? Less commuting? Or maybe you feel you've outgrown your current role and are looking for a new challenge. If you're thinking about a completely new direction you'll need to start thinking about getting some experience or skills that meet the requirements of your desired role  My work with people who have just completed say an MBA or Masters as way of leveraging a new career move show that it isn't always smooth sailing. Yes, employers value the new qualifications – but they value experience and relevant skills just as much.
Showing conviction
How can you show conviction to the new career choice? If you want to say, work in an environmental  or sustainability career (which seems a really popular career choice at the moment) think about what you could tangibly offer, what volunteering work can you show an employer to convince them of your commitment. A recent survey by the Institute of Environmental Management and Assessment said most people joined this career because they cared about creating a sustainable future. Over 56% said that they "moved from another sector into an environmental role because they either wanted to make a difference or they had a natural interest in the environment and wanted a job that reflected that passion".

It's the passion that's the key to show a commitment to a new career or job – but it's how you demonstrate a commitment to that passion, ie., getting the right sort of skills and experience will help you secure your desired role.