As far as LinkedIn goes I've been a relatively late adopter but the more I delve into it the more I enjoy it! Not only is it an online CV, it's a social network, news aggregator and recruiting tool; talk about fingers in many pies!
As LinkedIn drives forward with its desire to make it easier to connect with people they have unwittingly made it easier to send unsolicited requests to connect! You can quite easily just click a button and it will send an automated message saying "I'd like to add you to my professional network."
Whilst that is totally acceptable if you know the person well enough or if they know that they will be receiving a request, if the request is to someone you have never met, at best it's lazy and at worst it's downright rude!
Making a LinkedIn request
When you make a LinkedIn request the best way to do this is by clicking the 'Connect' button on that persons LinkedIn profile. You will be presented with the following form where you should always send a personalised message with your request.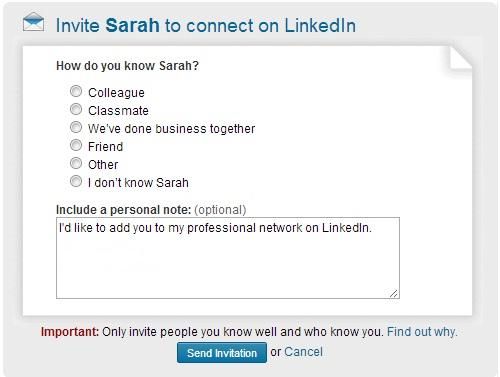 Unlike Twitter where the emphasis is often on the number of Followers you can get, on LinkedIn your goal is to nurture quality connections with professionals who can help your career.
Including the following information will help your request to be well received and will also help to develop a good foundation for a professional relationship.
If you haven't met the person in question let them know where you found out about them. If you have already met them in person remind them where!
Why you'd like to connect with them
How you could add value to each other's network
Be aware of the auto invite!
If you're connecting through the 'People you may know' section, be aware that if you click the 'Connect' button it will send an automatic invite with a standard message. Make sure that you always click the little pen (see below) rather than the connect button to enable you to write a personalised message.

If you do accidentally click the connect button don't panic. Send them a message explaining your mistake and include the information above to let them know who you are and why you should connect!
Are you sick of receiving unsolicited requests or have you fallen foul to LinkedIn's auto connect feature?
Let us know in the comments below