Career Planning
There are several theories on how we plan our career. Some theories actually say that its better to leave things to serendipity. Which sounds a bit laid back – but the idea around this comes from some research suggesting that, as humans, we can't actually predict what we want in the future. In a recent article, the concept of making mistakes about what we might want in the future has been termed 'miswanting' by Gilbert and Wilson (2000). They point to a range of studies finding we are poor at predicting what will make us happy in the future.  One experiment asked people to choose a sandwich they wanted a week ahead. Once they got the sandwich, they said they actually weren't that happy with their pre-planned choices. In fact the group that chose their favourite sandwich each day at lunchtime turned out to be the happier group.
Misty Optics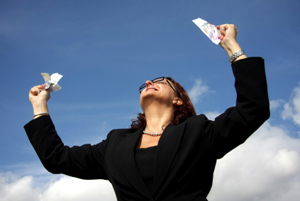 Other research suggests that because of an Optimist Bias we have built in us that means we over-predict what will make us happy – when in reality it might not. In Happiness research there is a famous piece of work showing that the effect of winning the lottery on people didn't have the impact on their happiness they predicted it would. This suggests that we can't accurately predict what we really want or that which will make us happy. Maybe even in careers and jobs.
Research-schmesearch
So this research is all well and good but how can we apply this to our career planning? Well I feel that whilst we have to be open to the idea we can't predict what we want or what we would like in the future, we do know what we have liked previously. The argument about miswanting applies to any area of our lives which involves making a prediction about what we might like in the future. Career planning becomes painful precisely because it's such an important decision and we come to understand that we have only very limited useful information. The favourite sandwich we liked and made us happier was built on previous experience of sandwich choices.
Sandwich jobs
Ok there's no big risk in choosing a sandwich. In career planning its more important to think about yourself and what kind of things (so far) have made you happy. So if you are starting out on your career, say just after finishing your studies, you might need to consider what things you have enjoyed doing – this can give an indication of what you enjoy. It's something to build on for deciding on career planning. If you are changing career, then you'll need to think about what you don't like about your job, and what things you are looking for. It sounds quite elementary – but working out what you have have really liked and disliked in the past is often the easiest place to start planning a career. And it can give a more accurate prediction of what might make you happy in the future.
References
Gilbert, D. T., & Wilson, T. D. (2000) Miswanting: some problems in the forecasting of future affective states. In: J. Forgas (Ed.). Feeling and Thinking: the role of affect in social cognition. Cambridge: Cambridge University Press.