With tuition fees at a painfully high level it's so important that you get off to a good start! When I went to university I had no idea what I wanted to do, but then again that didn't really matter as much. I was the last of a dying breed whose university tuition was paid for by the Local Authority and more importantly, I graduated in a buoyant job market. Whilst I am still paying off a student loan, at least I didn't finish university cradling a debt that the World Bank would be proud of!
With that in mind here are my 6 tips for getting off to a good start at university.
Don't panic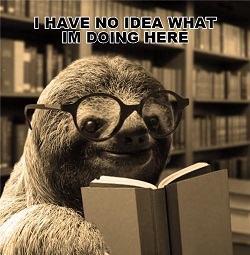 This one is essential! Trust me, everyone else will be feeling nervous as well. Meeting new people, being away from home, having to do your own cooking and generally having no idea what university is going to be like is a sure fire recipe for sweaty palms! Just roll with it and in a few weeks you'll be wondering what you were worrying about in the first place!
Beware: Fresher's week is awesome
Fresher's week as a first year is your chance to break the ice with your fellow students and hall mates. Drink and be merry by all means but try not to be too reckless. That student loan won't last long if you drink it all in the first week. I had friends that did this who either spent the rest of the year living off 20p noodles (not good for your studies) or taking jobs and working as many hours as possible (also not good for your studies).
Attend all your tutorials and lectures in the first few weeks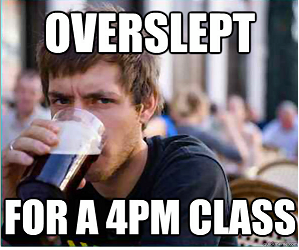 Obviously I'm under no illusion that you'll make every seminar and lecture throughout university; those 9am lessons can be a nightmare after a heavy drinking session. The main thing is to make sure that you get to all your lessons in the first few weeks. You don't want to get behind before you've even properly started!
Befriend your tutors
Making a good impression and building up a good level of rapport with your tutors is essential. When the proverbial hits the fan come exam or essay time you might want their help. As long as they know who you are and you've made an effort to be active in their tutorials, they'll generally go out of their way to help. Unfortunately if you're that student who's been absent (whether that's physically or mentally) that help might not be so forthcoming!
Do a little bit of work everyday
The old saying of softly softly catchee monkey, definitely applies here. Leaving everything until the last minute, is a sure fire recipe for mediocrity. Trust me, I've been there, worn the T-shirt and for many years kept that T-Shirt on (stains and all). Doing a little bit of work every day will help you to stay ahead. Whether it's reading your course material, doing a little essay planning or checking out some journals, be sure to do something. When the deadlines start coming in thick and fast, you'll be so glad that you did!
Become 'at one' with the library
Whilst the library can seem stuffy, oppressive or at times just overly dull, it really is the place to be to ensure you have all the resources you need at your fingertips. It's also a great way to get away from all those distractions at home (damn you Mario Kart and COD).
In the first term make sure you familiarise yourself with the library on a regular basis and when you do go for an extended time, make sure you take supplies. Honestly, it's amazing what a nice sandwich and a pack of Haribo (insert other treats as applicable) can do for a study session! With the right amount of treats, being in the library for hours on end won't seem that bad and you never know you might actually get some work done!