Whether young or old, age discrimination can affect our chances of both employment and progression. Whilst the equality act of 2010 makes it unlawful to discriminate against employees, job seekers and trainees because of their age there's no doubt that it still happens on a daily basis!
At the application stage it's inherently difficult to prove any discrimination. However, there are certain things that an applicant can do to avoid age discrimination which I'll cover below!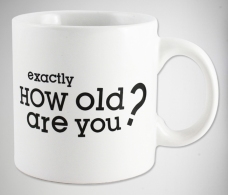 Don't give away your age in your email address
Unless you have an unusual name it's been common to practice to incorporate the year of your birth into your email address. Addresses like timburgess1964@hotmail.com instantly tell an employer how old you are. If this is something that you want to avoid set yourself up a new email address that is age neutral.
I'd also suggest avoiding early email providers like AOL or Hotmail because to be honest they're just so 90's; get with the programme and set up a Gmail account. *No I'm not on commission before you ask!
Don't include a date of birth on your CV
In the past it was common practice to include a date of birth on your CV. Nowadays I would suggest avoiding this like an overly drunk friend at a party that's just decided another round of Jager bombs is a good idea.
Whether you're 18 or 58, leaving off your date of birth will make it harder for an employer to guess your age forcing them to assess your CV on its merits alone.
Avoid language that will give the game away
From reading lots of CV's I've seen lots of attempts to account for age. Words or phrases like mature, seasoned, youthful, young for my age, youthful looking etc. only draw attention to your age rather than detract from or explain it. Keep your CV neutral and positive, you don't need to explain away your age if it isn't obvious!
10 years' work history is ample
Most employers will try to guess your age from your work history so don't give them the chance. By keeping your wok history to the last 10 years not only will you be including the most relevant information, you'll also make it more difficult for employers to work out your age.
Do you need to mention that you have kids?
Mentioning that you have kids is an easy way to give an indicator of your age especially if you've given your children's age. Unless having kids is going to positively improve your application (childcare roles) then consider whether you need to include the info in your CV or application at all.
Have you been suffering from age discrimination?
Are there any additional tricks we should add to the list?
Please let us know in the comments below!