Are you a PhD or early career researcher thinking ahead to a career move outside of academia? Are you about to start a PhD and want to know the types of job opportunities open to researchers?
The good news is that for a variety of job roles and career routes the skills and expertise of a researcher are in demand. This e-book will help you to use your research skills and experience to stand out in the job market and to take steps to secure a job. Articles and case studies will bring to life how to make the transition from academia to alternative career paths.
10 career options will be explored to highlight the benefits and opportunities for researchers from a range of disciplines. The ebook ends with activities to focus on your personal situation and to help you develop a career strategy to secure the job you want and to build a successful career.
This ebook builds on content from the popular jobs.ac.uk ebook Career Planning for PhDs and covers: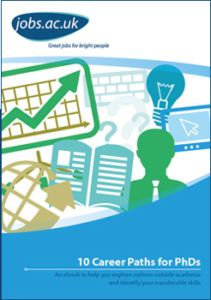 Using research skills in jobs outside academia (including activity)
Translating your skills from academia to business
Moving out of academia – case studies
10 alternative career paths
Activity: Working in other sectors – 5 tips to help you make the right move for you
Activity : Using your research skills to succeed in job market – 5 key steps
Download the 10 Career Paths for PhDs ebook now!