MOOCs or 'Massive OpenOnline Courses' provide an opportunity to learn for free. They have been given a good press, followed by a rather bad press. However, I think there is a very strong something to be said for doing one. Not instead of a degree or your weekly shop, but as well as.
I've signed up and near completed a MOOC. I differentiate here as these are two different activities. I have signed up before for MOOCs not thinking about how I could actually do them. This time, I was serious. I sent a Tweet: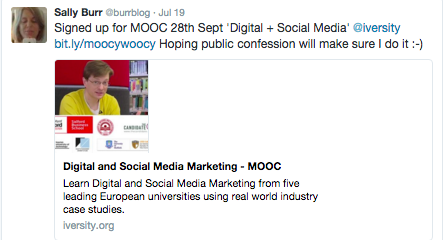 I later mentioned it to a colleague who signed up too. So, I had a public confession and a comrade. As October approached, it looked like I was really going to do it, and I did.
It is week 6 of the Iversity Digital and Social Media Marketing MOOC delivered by Salford Business School in collaboration with a number of education and business partners. I have learnt about social media and digital marketing in a context not readily available to me in higher education; the commercial world. I have found new global Twitter contacts, which is refreshing. Even the internet can get cliquey. It was quite a buzz to be among 10,000 people, dotted over the world, meeting only in lunch breaks, before bed and whenever I could find some wifi, strangely invisible and unveiled only by the #passion4digital.
The MOOC has helped me to understand the 'business of content' in a commercial setting, as well as to see how a successful MOOC can be run. It has also allowed me to:
explore new digital tools (Creative Hive, for example)
experiment with giving and receiving feedback
listen in on (and be part of) a global dialogue
If you would like to try a MOOC, here is a list of MOOC providers to peruse. I have unimaginatively taken their description against the link, so you will need to investigate the different providers for yourself. The only MOOC provider I can so far vouch for is Iversity.
If you, like me, don't have wifi, you can always gobble up any video content when you are in a wifi-laden zone, like a Library or at work during lunch, for example.
Make your own MOOC
You could consider making a MOOC of your own. I must say the thought of teaching someone in a far flung land tickles my fancy, and I'm not even a teacher. Here is a post to help you to explore various platforms to make a MOOC of your own.
UnMOOC?
If you are completely new to all things digital, see the Learn My Way website for free resources on digital basics such as making online connections. You can even get help from a human being in the form of a local digital champion who can give you up to eight sessions, for free.
Free learning doesn't have to be massive or open. The web has enabled all sorts of learning opportunities. See the full list of free courses with the Open University (OU), free courses with certificates with Alison (no relation of Lynda) and free social media short courses with Digital Skills.