Back in the olden days, i.e. 10 years ago, gathering research material meant photocopying endless journal articles and storing them in lever-arch files. For those of us who view admin as a form of housework, this was an unwelcome chore. Just as I started my PhD, I discovered a solution to my unmanageable piles of paper. Evernote is an application that promises you can "Capture anything – Access anywhere – Find everything fast." It's essentially a database, but one with an attractive and intuitive interface. An Evernote 'note' can comprise almost anything in digital format, such as text, web content, images, audio files, or video. You can also mix and match these formats. If you enjoy imposing order on your material, you can organise those notes into named notebooks and tag them. Alternatively, you can just dump it all in Evernote and rely on the excellent search facility. It'll work on your desktop, tablet, and smartphone, too.
In this post I'm going to explain a few of the most useful Evernote features for researchers.
Reading & annotating journal articles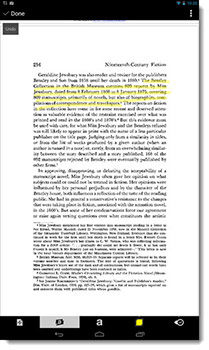 I have over 5,000 items in Evernote, many of them journal articles I've gathered for various research projects. Using my tablet, I can easily read and annotate those articles, and Evernote even creates a log of my highlights and notes for quick reference. The full text of the PDF is searchable alongside all of my other content, so I effectively have a comprehensive database dedicated to my research topic. I've also configured my browser so that Google searches Evernote in addition to the web.
Saving important emails
It often doesn't seem like it, but some emails do include useful information. To avoid losing them in your inbox, you can send them straight to Evernote. When you sign up for an account, you're assigned an email address that looks something like this: astudent.09b84@evernote.com. This means you can forward an email to an Evernote notebook and even add tags and extra content. I forward calls for papers to Evernote and use the reminder feature to give me a nudge a week before the deadline. Otherwise there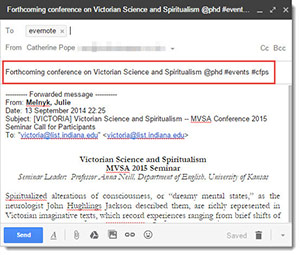 would be no hope of my remembering to do anything.  I also send any relevant material from mailing lists to Evernote. GMail users can save some time by setting up a filter or by using a service like IFTTT to automatically save starred emails. You might find that the databases you use for your research allow you to email the results to yourself. Use your Evernote email address to store them with all your other material.
Finding anything fast with text recognition
It would be difficult for me to pick a favourite Evernote feature, but the one that provokes the most "ooohs" in my workshops is text recognition. If you take a photo of some text and send it to Evernote, the text actually becomes fully searchable. Yes, really. Not only does it save time on photocopying or scanning, but it's much easier to find material from a book again, even if you can't remember the title or author.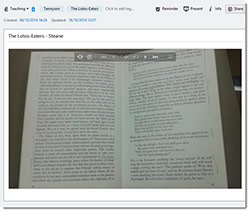 Additionally, I use this feature for photographing and storing notes from whiteboards or flipcharts at the end of classes.
Conclusion
I've given you only a brief overview of Evernote's extensive capabilities. The best way to fully appreciate its potential is to give it a go yourself. Evernote is freemium software, which means there are both free and premium versions available. The free version limits how much data you can store, but it'll give you enough to explore and get started. For $24.99 a year, Evernote Plus provides more than enough space for most users. If, like me, you end up running most of your life through Evernote, you'll want the Premium package with unlimited uploads for $49.99 per year. That's a small price to pay for having a second brain.
This post was kindly written for us by Dr Catherine Pope, who is a digital skills trainer and author. She runs workshops for academic researchers and has published ebooks on Zotero, Evernote, and Scrivener. Find out more at www.theDigitalResearcher.com.