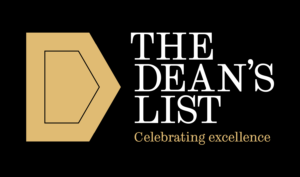 It's been a while since my previous blog entry so I'll do a speedy round-up of what's been happening in my university career.
I'm currently the Alumni & Communications Coordinator for Sheffield University Management School, and it's my first time based within a faculty, having spent over 8 years in Student Services.
My role is primarily alumni relations but there's plenty of projects that relate to current students, and for me, most often, third year undergraduates.
This week, the External Relations Department launched a brand new award for 3rd year students that celebrates excellence. It's called The Dean's List.
So how do you promote a new student award with a personal touch? More specifically, how do you launch an award with a personal touch that doesn't alienate your target audience, brings people in and doesn't reek of elitism, pretension, or [shudder], pomposity? Tricky…
Traditionally, a dean's lists focuses purely on academic attainment, which is typical within the United States. So it was refreshing to help deliver a fresh approach for our Dean's List.
How so?
Well, the shortlisting criteria directly relates to the School's Mission and Vision. Aside from academic success, students need to evidence accomplishments in social responsibility and employability-related activities.  The bespoke criteria will require students to submit an individualised case, unlike the automatic enrolment process favoured across the pond.
In doing so, it makes each submitted case personal – both for the student and the shortlisting panel. As a result, students will be describing their achievements, in their own words, but also using the words of others (as per the supporting evidence).
This personal touch is also mirrored in the launch and communications approach we've taken in External Relations.
We've broadcast the launch across social media, plasma screens and created a dedicated webpage but it was important for there to be a personal approach also embedded within the communications activity.
So we've given short introductory talks at lectures and information workshops.  The in-person communication activities are crucial. It's our opportunity to ensure students feel like they could (and should) apply. To help bridge the digital activities with the personal, we created a video featuring the Dean himself giving the award gravitas but also ensuring the message was delivered directly-to-camera.
Whilst our digital reach would perhaps have been 'enough', the use of the in-person talks is a way of adjusting our message and it making it connect with a live audience, which is a very different skill.
Judging the mood of the audience (time of day), the venue (lighting, temperature, IT set-up), size of audience and of course, the speaker.  The lecture talks helped to express the importance of our key messages. Outlining the winners package, the kudos they'll get from their peers and the legacy (their name engraved within the building).
It's been very fulfilling project to have worked on and combining digital communications with an in-person approach seems to have worked particularly well.
Find out more: