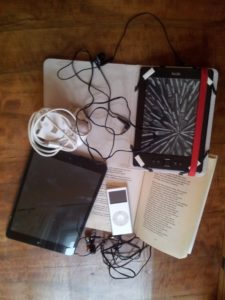 As the new Social Science correspondent (check me out!  A proper title and everything!) here at the Piirus blog, I've been playing with lots of bits of technology that are new to me.  Now, my family would probably say that I'm a fan of technology, but when it comes to the things I've been exploring for this role, I've been feeling quite… well, elderly.
I've been exploring Google Hangouts, Skype, Storify and Twitter, and this blog post has some of my thoughts on what I've been up to in the Land of Techno…
What do I mean, that I feel "elderly"?
I say 'elderly' on the basis that my ventures have been bringing back memories of my parents' forays into 21st Century toys.  My Dad, for example, had enormous fun with PowerPoint once he realised it could do exciting things like having words fly onto the slides.  He was extremely proud of his PowerPoints (he was a maths teacher, and also helped my Mum with her historical society presentations), especially the fact that he was entirely self-taught.
Actually, that thing about being self-taught has loomed large for me lately.  I've noticed that all three of my children have learnt to use PowerPoint, Excel and so on, via school.  Imagine that!  Being taught to use the things the rest of us can remember not even existing!  My husband, on the other hand, has an ongoing struggle with 21st century computers – but as he says, he's a pianist, and their technology hasn't really changed for the past couple of hundred years.  A fair point, but not necessarily the best when I come home from a day in front of my computer and have to help him print a document from his iPad, or show him how to save contacts into a lovely group.
What have I been up to in the Land of Techno?
And to think, a couple of months ago I'd never used Skype (I know!) and had never even heard of Hangouts.  Because the Piirus team is fairly well scattered around various countries, we needed to establish a virtual meeting place, so we've been playing with both Hangouts and Skype.  Being new to both, I've had trouble joining calls, forgotten passwords, had black screens but been able to hear the others' voices… However, I have made progress!  I no longer quake at the thought of trying to be in the office at the right time (thank you, little iPad app), and I've even managed to persuade my aforementioned non-techno-comfortable husband to get Hangouts on his iPad too – which led to much family merriment when I was away in Dublin recently.
What a revelation!  Like a notebook, only no pen and paper required!  A useful place for my thoughts, a great way of tracking down relevant articles, presentations, videos and tweets, and a brilliantly quick way to store anything useful that I find.  So far, I've created storify pages on academic blogging, narratives of identity, and meerkats (clearly, that one's for my daughter *ahem*).  I must say, Storify has been very easy to use, and what I really like is that I can store my stuff without having to publish it.  Although, it has been a little stressful – being a natural worrier, I've been slightly obsessive about checking and re-checking that I haven't accidentally pressed 'publish'.
The other week, I even managed to create a Storify for Piirus (our regular 'Planet Piirus' update), so I know I really can do it and make it appear in the world!  Of course, I was helped by some extremely comprehensive instructions from Piirus' blog editor, without which I would have been floundering around for much longer, but hey, I'm proud to have managed this much.
What are my conclusions from all this technological wizadry?
Well, first, I'd say it's good to be brave and get out of my comfort zone.  I'm very much a pen and paper kind of girl, but sometimes I do need to do things more quickly, so it's good to know I have a place where I'm able work in a different way.  Likewise, I enjoy face to face meetings – and while Hangouts can't replace a good old chat over a cappuccino, I'm enjoying video calls far more than phone conversations or lengthy email exchanges.  If I'm going to collaborate with other researchers around the world, I know all this is necessary – and in reality, my teething troubles did teach me that worldwide collaboration really is possible.
Meanwhile, my struggle with Twitter continues.  I have to steel myself every time I go there, as I know it's going to be a lot of hunting around in the depths of other people's re-tweets.  There are obviously great nuggets to be found, but I'm waiting for the next fabulous bit of technology that will outclass Twitter.  It's only a matter of time… Or perhaps some of you already know what's coming soon?  It would be great to hear about other people's experiences of this brave new world – just so I don't feel like the oldest person in the world (apart from my husband, of course!)