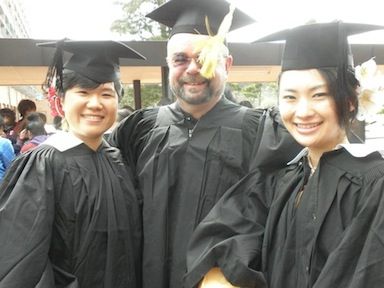 Marc Helgesen talks about his greatest and most embarrassing moments as an English teacher, reminisces about the halcyon days of Japan's bubble economy, and offers advice to those hoping to embark on their English teaching career in 21st century Japan. Check out Part 1 of this interview here.

What has been your greatest moment as a teacher in the last 30 years?
Wow. There have been so many.  Let me just share a simple one.  Last year, towards the end of the year, I asked a few of my fourth year students who had become bilingual in the course of their college life, to talk to their kohai (the younger students, mostly first and second year).  They started out in English but most of the Q & A about how they had done it was in Japanese so the younger students would understand.  Seeing my own students, who were really good at English, sharing with the others was wonderful. I felt kind of like a "proud papa."  There's a quote from Earl Stevick, one of the great thinkers in ELT.  He said, "Teach. Then test. Then get out of the way. "  That's how I felt watching my successful students.
And your most embarrassing?!
How about two stories? One that is simply funny, the other a bit different.
Early on in Japan, I was teaching at an eikaiwa. We did "delivery teaching" for various companies and senmon gakko (trade schools).  One time I was teaching an elementary-level senmon gakko class.  It was a TPR (Total Physical Response) lesson:  Lots of "Touch your desk.", "Point to the window" kinds of things. At one point, I said, "Point to the teacher".  All these 18-year old women pointed to my crotch.  I looked down. Sure enough, my fly was open.  I turned around, zipped up and taught the word, "embarrassed."
One that is more serious, I think.  Back in the early 90's, my books were starting to take off. I was getting invited to more and more conferences.  One time, I was on a panel with a few real famous teachers and authors— one of whom my books were directly competing with.  At one point, he used his chance to speak to attack me for something he assumed I would have said in my session, based on my topic. (He hadn't attended).  It very much came off like he was putting down the new kid.  One take-away for me was to always try to support the next wave of leaders, whether they are authors, teachers, conference organizers, etc.  In addition to being a good thing to do (karma – see the monk question), you look like a jerk if you don't.  The second is that "the audience always wants the presenter to succeed."  But you know how you always think of a good comeback line long after you need it?  I'm ready if I ever get attacked again: Smile and say,  "Nice shootin', Tex."
You started your career in Japan during the bubble era. Was teaching English during that period really as insanely lucrative as it is sometimes made out to be?
Not really – or maybe I was just teaching at the wrong place.  Salaries were never that incredible.  But I do remember one event from the bubble that sticks in my mind.  In the mid-and late-80's, a lot of American universities opened programs in Japan.  This is how they thought they were going to deal with the fact that the baby boom was over in the States.  Didn't really work out. Anyway, a lot of those universities had very rich Japanese partners/backers.  I was teaching for an American university program whose partner was a Japanese luxury golf resort.  Anyway, one time the boss of the golf resort wanted to take his teachers out for dinner.  We went to a fabulous restaurant – think this is the only time I've eaten fugu.  As we were leaving, we were all given a "gift bag."  We left the formal and most of the teachers went off to our own nijikai (second party) at a beer place.  We opened the bags. We were each given 100,000 yen in department store coupons, just for attending the party.  Someone made the comment, "He must have some really weird tax problems."  Anyway, don't think that sort of thing happens any more.
Bearing in mind the current state of the Japanese economy, the issue of population decline, and the repercussions of the events of March 11th, what advice would you give to someone considering starting an English teaching career in Japan?
It is certainly harder to get a good, secure job in Japan than it used to be. And the population decline is worrisome, both for the education industry and for the country in general. The earthquakes – and keep in mind I live in Sendai and we are likely to get another really, really bad one in this cycle.  At the same time, why worry about something you have absolutely no control over?  So, yeah,  there are bad things. For many of us, the earthquake reminded us to take the time to notice the really wonderful things about this country. People helping each other. No one went crazy. Safety (of some types, anyway).  And professionally, there is a lot going on in Japan. So yeah, eyes wide open, I still think Japan is a good place to be.
If you could do it all again, is there anything you would do differently?
I wish my Japanese, especially my written Japanese was better than it is.
But, overall, what would I do differently?  Let me share a quote I just learned* from Tallulah Bankhead, a film star from the 1930's and 40's.   She was asked the same question and said, "If I had to live my life again, I'd make the same mistakes, just sooner. "
*I heard this quote in a plenary Ken Wilson did at Korea TESOL.
Marc Helgesen is professor in the Dept. of Intercultural Studies, Miyagi Gakuin, Sendai. He is the author of over 150 books, textbooks and professional articles on ELT and has done teacher training workshop on five continents. He is Chair of the Extensive Reading Foundation. Beginning Summer 2013, he will teach a course on Positive Psychology in ELT in the grad. school at Nagoya University of Foreign Studies.
Don't forget to check out Part 1 of this interview!