jobs.ac.uk, the leading international job board for careers in academic, research, science and related professions, has announced the launch of a new recruiter site for employers.
The new look recruiter site, which can be visited at www.jobs.ac.uk/recruiters, has been extensively re-designed and offers an intuitive and more informative experience for recruiters looking to attract staff within academic, research, science and related professions.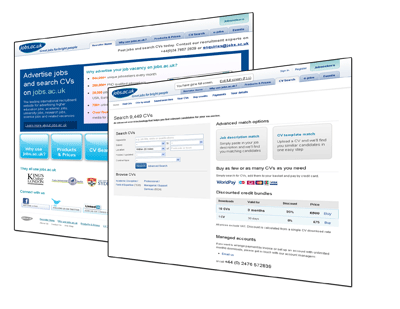 Recruiters can now easily access more detailed information about jobs.ac.uk's effectiveness, its online audience demographics and the range of online recruitment products and services it offers.
The new recruitment site also incorporates CV Search; a next generation CV database powered by the award-winning Madgex CV Search and Match platform.
CV Search is the most up-to-date, fully searchable CV database within Higher Education and will enable recruiters to search over 9,000 specialist CVs from academic, research and science professionals.
Recruiters using the new CV Search service will be able to search CVs using a range of advanced tools including matching suitable candidates based on CV or job description documents. Recruiters can then view fully anonymised CVs of the most relevant candidates – saving time and money on shortlisting and enabling vacancies to be filled more quickly.
Carl Freelove, Marketing Officer at jobs.ac.uk said "the new recruiter space is part of jobs.ac.uk's continued commitment to offering an outstanding user experience for our jobseekers and recruiters. The improved design and navigation, CV Search functionality and additional content about our services will help recruiters to make more informed buying decisions when it comes to recruiting the very best jobseekers".
Since its launch 14 years ago by the University of Warwick, jobs.ac.uk has become a leading online recruitment resource for over 700 universities worldwide and attracts over 644,000 unique jobseekers every month.
If you have any questions or feedback about the new recruiter section or CV Search, please contact Carl Freelove at carl@jobs.ac.uk
The new jobs.ac.uk recruiter site can be visited at – www.jobs.ac.uk/recruiters.