Simulated Emission was the term named by Albert Einstein in 1917 for generating laser. Laser is an abbreviated acronym for Light Amplification by the "Simulated Emission of Radiation". Generally there are different kinds of lasers, generated from different materials. Including short emit pulses, ruby laser, helium-neon gas lasers, semiconductor injection lasers and telemetry lasers.
Since light photons are smaller in size that forms electromagnetic waves packets. Generally when these light photons are transmitted together in synchronization, they produce a laser beam. Due to this property along with speed of transmission they are mostly error and distraction prone. For deep space communication NASA have implied Laser communication in it's Lunar Laser Communication Demonstration (LLCD) project. Deep space communication needs a reliable source, which can tackle requirements of set standards for connecting ground stations with data-gathering satellites. This type of communication is very much similar to optical communication. The one difference which is a major one, is the vast distance that has been covered for communications.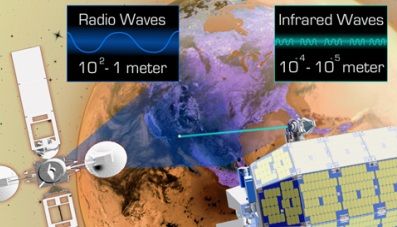 The system transmits data in form of several short pulses of light particles per second as mentioned above. The LLCD system consisted of three modules
1-Optical Module
2-Modem Module
3-Controller Module
In the LADEE rover, optical module is fixed on the exterior of the spacecraft, having a telescope, which transmits laser beam back to earth ground stations accurately. The modem module is enclosed in the LADEE space craft, is very much similar to Internet modem, whose function is to transmit data at the rate of approximately 622 MBps through infrared laser transmitter. The last but not the least module is the controller module, the functionality of this module was to keep track of the ground stations for accurate pointing. NASA has successfully tested this system and expects to provide a great resource for future space communication. Although optical communication have proved it's efficiency already but the only thing it lacked was the restriction on lesser distance, which is now covered through laser communication. Along with this added functionality, laser communication not only provides fast and high data rate transmission but also implied on energy and power efficiency usage.