I recently read a very interesting report on a research study carried out by the Royal Society of Chemistry (RSC), and I would like to bring your attention to it. As a chemist by training, I have always believed public opinion towards chemistry to be very negative. Stereotypically, I had the impression that chemistry was often associated with environmental disasters, non-natural food additives, chemical weapons and so on. I always felt the need to justify myself when speaking about what I do to the general public: "I don't do what you think I do…"
This has always saddened me because chemistry is so much more. It is, in fact, what makes the quality of our life so impressively high. Chemistry is in detergents, in the OLED (organic light-emitting diode) television, in the petrol that makes our cars and planes function. Chemistry is baking soda, it is food preservatives and medicines, just to name a very few. Moreover, chemistry is at the base of every metabolic process that makes us alive.
I was therefore very positively impressed by what the researchers of RSC found during their "Public attitude to Chemistry" investigation. The study was thoroughly carried out in several stages over approximately six months. The various steps included:
• A scoping stage comprising a literature review and stakeholder interviews
• A qualitative research through public workshops with interviews and vox-pops recorded before and after the workshops. This allowed to study how (and if) participants' view had progressed
• Public survey on a total of 2104 participants aged 16 years old and above
• Survey with RSC members, which included a total of 405 individuals
• Analysis of the collected data
By reading through the first results, it is straight away evident that the public perception of chemistry is much more positive that professional in the chemistry sector believed. The majority of UK public (84%) think that chemistry makes a valuable contribution to society and even a higher percentage (88%) believe that chemists are approachable. Very few chemists (20% or below) thought that the public would have said so.
Furthermore, more than 50% of the public believe that the benefits of chemistry are greater than the harmful effects, with a peak of 72% convinced that chemistry research and developments are directly related to economic growth in the United Kingdom.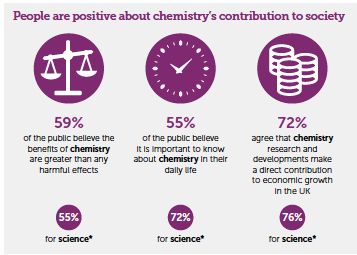 I find this very exciting because it shows the overall friendly attitude of the public towards the subject.
Nevertheless, as the authors point out on several occasions, the public also expressed neutrality about chemistry. They seemed to feel detached from the subject or not interested, or even scared by it. This might be caused by limited "encounters" with chemistry in everyday life and as a tendency to link the subject with their scholastic experience, therefore placing it an abstract context. What I also found interesting is that people tended to be more positive towards "science", than towards "chemistry" associating the first with words such as welcoming, friendly, active, applied, accessible. For chemistry, words such as intimidating, serious, repetitive, inaccessible and secretive were instead used. Even though the majority of participants had difficulties imagining what a chemist really does (and tended to mistaken chemists with pharmacists), overall they saw it as a positive figure, trustworthy, honest, hardworking and that makes a difference in the world (thank you, by the way…!).
As I would have expected, when the public was asked about the world "chemicals" then their view tended to be slightly more negative, associating it spontaneously with harmful chemicals and synthetic material (man made).
Even though the overall picture turns out to be much more positive than expected, effectively communicating chemistry to the public remains a significant challenge. This study helps to individuate the points to target. We now know that what needs to be overcome is the neutrality and limited interest shown towards the subject. A part of the study that dealt with segmentation (how different people feel think differently about chemistry) showed that a smaller proportion of the population felt insecurity and inferiority towards chemistry. This was, at least partially, driven by poor experiences in schools. To tackle this problem, the authors conclude that it will be important to offer a way to engage with chemistry that makes it more accessible.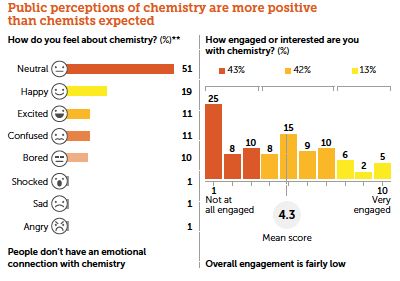 Chemistry must not be only for experts, it needs to draw attention from the public. For doing so, it needs to be seen as something practical and applicable to the real world. We should make sure that people meet chemistry more often in their everyday life through concrete positive examples and role models. A few themes were developed and tested by the authors during the workshops to help generate ideas and potential "hooks" for the public to get more interested in the subject. Among these, the most popular (unsurprisingly, I would say) was chemistry of food and cooking.
The authors also developed a Communication Toolkit (which can be found here) that gives more accurate insights on effective ways to communicate with the public.
I believe this study to be very informative and that every chemist should read it because it is our duty to make the subject we are so passionate about publically interesting.
Any great idea for outreaching activities? If so, get out there and make it happen. It's about time we made everyone love chemistry!
References:
Public attitude to chemistry, Research report and Communication toolkit, TNS BMRB 2015, Royal Society of Chemistry
http://www.rsc.org/campaigning-outreach/campaigning/public-attitudes-chemistry/
Infographics source: Public attitudes to chemistry in the UK, Royal Society of Chemistry (2015), rsc.li/pac