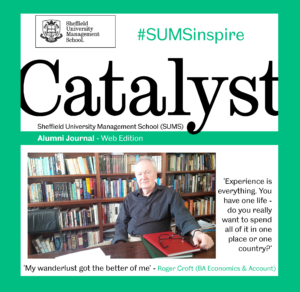 Alumni relations typically involves a wide-range of marketing and communication activities. This often includes networking events, newsletters, annual magazines, fostering online communities, and day-to-day engagement through usual office contact channels.
One excellent way that universities can, and do, stay in touch with alumni is to request an alumni interview. The art of the alumni profile is about getting to know the person, understanding their relationship with their former university, and above all, telling their unique story.
With such a wide range of alumni interviews available to read online, there's often a consistent structure which tends to be around 'the here and now' – their current occupation, location, and personal interests. When I was preparing to write my first alumni interview, I read lots of profiles, including those from within The Univerity of Sheffield, where I was clearly able to see best practice at work. I was soon able to understand how to get the essence of the person onto paper and convey a sense of warmth on both sides. On the flip-side, my research also involved looking at profiles from other universities. I was genuinely quite surprised to see the lack of imagination and interest some interviewers appear to have in their subjects. There are many published alumni profiles that read like they are rushed, cobbled together and fairly mundane in their questioning.
However, there's clearly many different approaches to getting the most out of the opportunity. And that is what it is – a rare opportunity to ask your alumni about what they are doing. Don't forget, they might be consumed with the daily pressures of running their own businesses, commuting across timezones around the globe, or working for one of the Big Four in the City. If they can find the time for you, surely you can find the time for them right?
Like with any interview, it really is worth investing quality time on tailoring the questions to the subject.
So here's my top tips for what makes a stand-out alumni profile, drawn from my own experience of creating enjoyable and insightful alumni interviews. These examples are from my role at Sheffield University Management School:
Alumni profiles are valuable content for university communications. Not only do they enable fellow alumni to become acquainted with their peers across the wider community, profiles also enable students to catch a rare glimpse of the graduate lifestyle. Certainly from a content creation perspective, they are easily one of the most enjoyable areas of my work. By developing alumni profiles, a stronger relationship with these individuals emerges, which often translates into other areas of alumni engagement such as attending events volunteering for talks/career fairs, and mentoring current students.