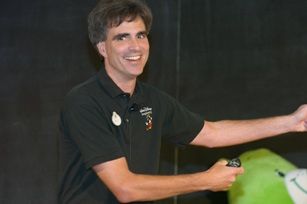 (The photograph is taken from http://download.srv.cs.cmu.edu/~pausch/)
Just when one starts to take degrees and careers too seriously one realizes that there are more important things: life itself, for instance! Lance Fortnow has an entry about Randy Pausch who passed away due to pancreatic cancer on 25th July 2008. Randy was a distinguished computer science professor at CMU with contributions in human-computer interaction. Randy had been commenting on his last days on this webpage.
His last lecture video puts many things in life in perspective. Randy gives us important lessons on courage, living to the fullest, pursuing one's dreams and giving back to one's family and community. Randy made an insightful comment that 'We cannot change the cards we are dealt, just how we play the hand.' His other quotations are:
The brick walls are there for a reason – they are not there to keep us out, they let us prove how badly we want things. Brick walls are there to stop people who didn't want it badly enough; they are there to stop the other people.

Wait long enough and people will surprise and impress you. When you are pissed off at somebody and are angry at them, you just haven't given them enough time. Just give them a little more time and they will come to impress you.

It's not how you achieve your dreams; it's how you live your life. If you live your life the right way, the karma will take care of itself and your dreams will come to you.
Randy's last lecture was attended by Jeffrey Zaslow, a columnist for The Wall Street Journal who wrote a column about the lecture. Zaslow was so much inspired by the lecture that he has written a book about it and how Randy showed dignity and courage in his last months. I definitely plan to buy the book.