A few months ago I submitted my first ever grant application (as a Co-Applicant with my main Supervisor as Principal Applicant and my second Supervisor as another Co). The funding body we applied to asked for a 4 page outline, that's it – just 4 pages. Then they would invite full applications before making the final funding awards. Well, our outline was submitted, they discussed it, they called my Supervisor and asked him to tweak a few tiny things, and then they awarded us the funding without the need to submit a full application.
The grant will fund the second (main) part of my PhD – so it's a Pretty Big Deal – and my response was a bit like this: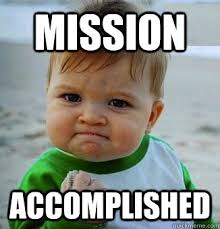 Of course this rarely happens and everyone's told me not to expect this to happen ever EVER again because I really need to toughen up and expect rejection in the world of academia and blah blah blah. For now I'm just going to revel in the fact that my PhD work doesn't need to be done on the cheap, people (important people!) actually think my work is worthy of funding, and I'm not even a year in and I'm an actual grant holder!
This whole thing is hilarious, inside I feel like an Adult Baby who will one day be found out but hey, I might be found out but I'll still be a grant holder.
Next on the to do list is to get through peer review (currently up to the 3rd round of edits) and publish my first paper. To be honest this peer review thing has been going on for so long that it feels like my beloved protocol will never be published, but I'm still in the game and still politely responding to comments whilst banging my head off the table.