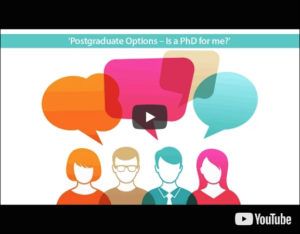 Are you thinking of doing a PhD, but can't decide?
Whether it's to achieve something significant, become an expert in your area or discover something new, studying for a PhD is a highly rewarding experience. However, it's also a decision you have to take very seriously as it involves a commitment to at least three years of study and completion of a thesis
It may be necessary to submit a research proposal to a supervisor in a university department in which you wish to study or you may find a specific research project advertised as a studentship with funding attached.
So how do you know if a PhD is right for you? 
To help all those who are considering undertaking a PhD, jobs.ac.uk is holding a FREE 60-minute live video event via a Google+ Hangout called 'Postgraduate Options – Is a PhD for me?'
By attending this hangout you will learn:
What routes there are to doing a doctorate
How to find PhD opportunities and choose a supervisor
How to get access to a fully funded PhD
How to compose a good application
What the reality is like for PhD researchers and get a real insight into what it's like to do a PhD