When I found my perfect course at my perfect institution, I set about applying for a PhD with loads of enthusiasm. But I found the process far from clear, even though I have been both a student and employee in the university system. I had little more than the single page on the department's website to go on; it detailed what was expected in the proposal and pointed me to the staff pages, but there was nothing else about how the system and PhDs in general work.
Being a bit of a writer, and therefore a lot of a reader, I naturally turned to books to help me, and I found that there weren't a lot around. There are plenty of books on how to get your PhD, but not so many on how to get onto one in the first place!
So here's a recommendation for anyone preparing to unleash their brilliant research proposal on unsuspecting profs: The PhD Application Handbook by UK researcher Peter J Bentley, which has nearly 200 pages of invaluable advice.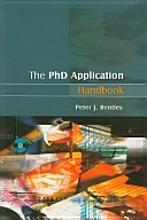 This book is useful for prospective researchers in all disciplines, with a wide range of examples given. It's really easy to read, and absolutely fascinating. Suddenly I knew the answers to some of the questions I dared not ask — how not to annoy the departmental secretaries or any of my prospective supervisors, who to approach first, how long to wait before enquiring about my application and so on.
I would recommend starting at the beginning and working through. You may want to skip the 'Why do you want to do a PhD?' part, but these are the questions the uni will ask, so be sure you really do know! There is tons of funding information, which will be invaluable for most students.
Personally, I found the chapter on preparing my application the most helpful, but the book is full of insights which will ensure that you present yourself as well as you possibly can. It also goes further than the application, holding your hand all the way through securing the offer, finding accommodation and some solid advice on beginning your PhD.
If you are wondering what it's all about, you'll feel much more confident with this book (and the Jobs.ac.uk PhD blogs!) to help you.