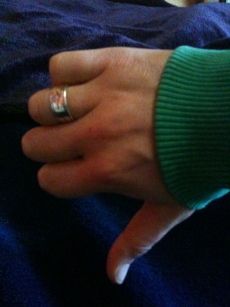 I received my first rejection letter for my as-yet unfinished novel last week. A proud moment for any author!
Advice to writers always stresses that you will receive many, many rejections  and that you must learn to deal with them. Rejection is never nice, and it has knocked me about a bit, but I want to have a look at the positives, and how I'm going to deal with the negatives.
My letter was positive in many ways; the editor had taken the time to read and consider my initial chapters carefully and offer some suggestions. She made some lovely comments which in the main mirror what my supervisor has been saying, that my descriptive writing is good and language is evocative. Landscape, seascape and the natural world are all really important to the novel so I am cheered no end by this!
However, I need to look again at the plot and really decide what the central themes are. I am trying to fit a lot in and it's not quite working. I think that, once I've finished my initial draft, I will go back and cut out one aspect of the novel which is detracting from the main coming-of-age and finding-her-place themes. This will resolve the feeling that the editor (and my supervisor) have that the reader is not sure what's going to be important, what the tensions are and the direction of development.
She also said that the language could be a little more adventurous — with all the work I've done recently on trying to nail the voice, I hope this is now better.
What I sent in really, really wasn't ready, but I was flattered to be given the chance to send something in, so I did. However, I won't send any other work out until I'm happy with it. (Not to say it needs to be perfect, as editors are ace at spotting unpolished gems.) I've lost my chance with a publisher I really admire and who are perfect for my kind of lit fic, which is a shame.
I've always kept my writing close to my chest, to avoid being downcast when people don't like or understand it, and so that I can just write without thinking about the audience reaction, the "What would your mother say?" issue. I find having a mentor amazing for my motivation, but I don't want more than one right now.
So, onwards and upwards. I'm super keen to keep my momentum going; I've upped my work-rate dramatically in the last month so despite the problems with plot I want to keep going and complete a first draft without endlessly circling back on the start. I am not sure I can fix the problems with the beginning when I'm not even sure how the ending is going to play out! (I have a chapter plan but I don't know what'll change and where emphasis is going to fall as I write; things always develop as my character develops.)
I'm having my monthly meeting with my supervisor on Friday. When I said I wanted to discuss the points raised in the letter he laughed and said, we can moan about our letters together then (from the same editor)! So at least I am in good company!