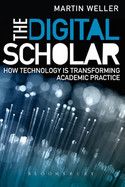 What do people find when they Google you — an attractive profile on LinkedIn or your own website or blog? Some photos you'd rather your mate hadn't put Facebook? Or just some random comments hidden inside a PDF from three years ago? Do you think you don't have time to develop digital research skills and profile yourself and your work on the web? Can you afford not to?
Social media is about people and connections, and the quality of connections is undeniably important for any researcher.
I like social media and the web, but am I really using them as well as I can to further my research?
Vitae's Digital Researcher conference dealt with just this. It was held at the British Library (Monday 20th Feb 2012), and they opened it up online as well:
'Digital Researcher Online will explore how new technologies and tools (microblogging, RSS feeds, social networking and social citation sharing) can be used to enhance your research and raise your professional profile.'
You don't have to be a geek and you don't have to spend loads of time on Facebook, Twitter or any other service, but with a bit of tweaking you can have relevant and timely information at your fingertips, and you can connect with others who are passionate about your field, and boy, can you market yourself.
I think it's kind of like exercise — if you're a gym hater, there's no point making it a resolution to go three times a week. If you prefer running, do that instead. So if you love LinkedIn but aren't keen on Twitter (assuming you have actually tried them and aren't doing a Daily Mail hate-hate-hate-based-on-not-much) then fine, just use the tools that suit you.
I'm posting this because I've heard a few people say, almost proudly, that they 'don't really get this social media stuff,' 'don't use the internet that much' or 'hate Facebook'. I'm think that's a shame (although yeah, Facebook can be awful), and a bit short-sighted, because they may be failing to present themselves as well-developed professionals in touch with what's going on outside of their specialism. So, have you checked recently what people see when they Google you?
For me, the web is exciting because I'm a writer, and there are so many new markets and chances for me with everything going on online, from micro-blogging fun to serious revenue-earning opportunities. I really believe that applies to everyone, and that social media doesn't have to be complicated or time-wasting, just well-managed and thoughtfully applied. If anyone can help with that, it's Vitae. (If you're not signed up for their Researcher Bulletin, do it, great resources.)
Here's the programme for the day:
10:00 – Introduction
A short interview with Dr Tristram Hooley on Digital Researcher 2012 and the current digital landscape.
10:30 – 11:15 – Morning plenary
Join us online and tune-in to the opening plenary of Digital Researcher. During this session we'll be covering academic practice, the role of social media and intellectual property.
15:45 – 16:30 – Keynote speaker Martin Weller (Professor of Educational Technology at the Open University and author of the 'Digital Scholar' book talking about 'Digital Scholarship'.