There is barely any film production which does not need stunt players at some point. They are not only used for health and safety, but for reasons of continuity. A bruise or a little cut in the face may not be life-threatening, but it means being unable to use the actor (as the character was not supposed to have one) and consequently expensive delays to the production. When Deborah van Valkenburgh broke her wrist while shooting The Warriors (1979), her character had to wear a jacket for the rest of the film in order to cover her cast. More recently, the almost fatal accident of stunt player Olivia Jackson, while doubling for Milla Jovovich on the set of Resident Evil: The Final Chapter (2016) has reminded us how risky their profession actually is. However, stunt players remain unforgivably underrated. The Oscars Academy refuses to give them a category, to the extent that they had to create their own awards in 2001, the Taurus World Stunt awards. Categories include Best Fight, Hardest Hit, Best Work with a Vehicle, and even Best Action in Foreign Film. Nevertheless, in 1967, a stunt man received an honorary Academy award for his achievements. His name was Yakima Canutt.
I was eleven years old when I first saw one of the best stunt action scenes Canutt ever designed (although I did not know it was his work for many years): the chariot race in Ben-Hur (dir. William Wyler, 1959). I was watching the film with my late father, who became thrilled as soon as the parade of the charioteers started. He explained me how the scene had been shot, the camera angles… He enthusiastically said that scenes like that were the reason he loved cinema so much. His enthusiasm was contagious. I always credited my parents' cinephilia (and that Ben-Hur conversation) as the reason I got into film studies.
 Although more than fifty years have passed since the release of the film, the chariot race remains a prodigy of craftsmanship. Despite exaggerated urban legends about casualties, Yakima Canutt's design and technique (working together with Andrew Marton) were a success of health and safety. The first film version of Ben-Hur (1925), made at a time of maverick stunt players, had a fair share of injuries. The 1959 had only one small accident (see photo): Yakima's son Joe Canutt (doubling for Charlton Heston) went flying over the chariot because he disregarded his father's advice of harnessing himself (Daddy knows best, Joe). He just got a small cut on the chin, but producers thought that the take was so spectacular that they put it in the film. Then, they added a close-up of Charlton Heston clinging to the chariot and recovering his position. Proof that cinema is 30% planning and 70% lucky chance.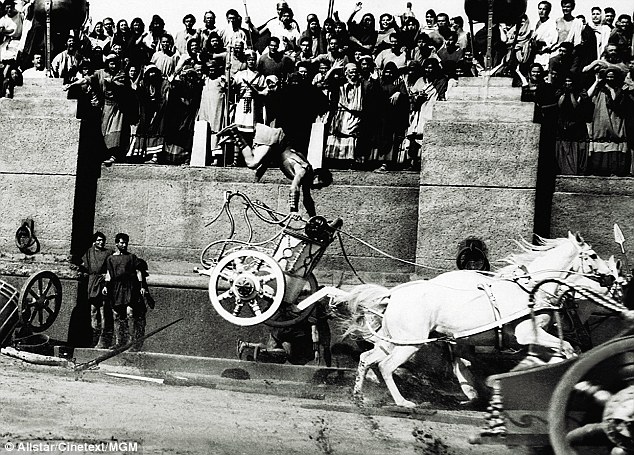 Yakima Canutt's chariot race (referenced in films like Grease or The Phantom Menace) was the culmination of a career decades long (which would continue for many years later). He had got his big break on the film Stagecoach (1939), when John Wayne (whose debut it was) recommended him to director John Ford. The film includes one of Canutt's (doubling for Wayne) most famous stunts: the drop from the stagecoach and then jumping from horse to horse (see photo). The stunt has been recreated in countless westerns ever since, and more recently in Raiders of the Lost Ark (1981).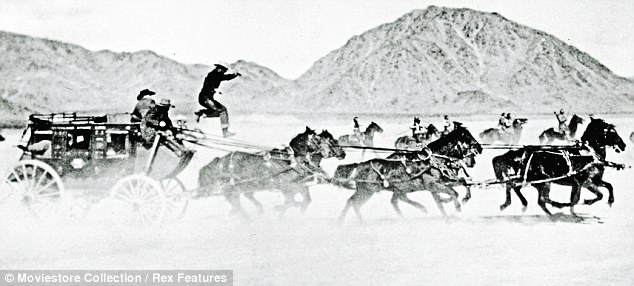 Yakima Canutt and John Wayne had known one another for years. The stunt player and the actor had a close working relation while they did a series of B-westerns for Monogram in the early thirties, at a time when the rules of film language were still being written. While those westerns might seem "camp" to modern eyes, their main aim was to thrill the audience with spectacular action scenes: jumping on horse to a river, or sliding down a mine washing site were some of the most popular (sometimes the same footage was re-used from film to film). Fighting scenes have always been similar to musical ones, in the sense that they involve a carefully calculated choreography. The purpose is to maintain a balance between realism and ensuring the safety of the participants. The film Riders of Destiny (1933) is nowadays remembered because Yakima Canutt and John Wayne designed a very realistic fighting scene, imitated time and time again. The technique revolved around the creation of a blind spot. Both fighters were facing one another, but the camera was placed frontally, at a certain distance behind the back of one of them (which left the other one only half visible). When they started throwing punches, the angle produced a false perspective, hiding the fact that the distance between the two fighters was bigger and no actual physical contact was made. The blind spot technique has been recurrently used ever since. One of the most curious applications has been in Bollywood kissing scenes, in which the head of one actor covers the other, to hide the fact that they do not actually kiss.
While I was preparing this post, I read an interview with the director of the new Ben-Hur new version (due to be released later this year). I was dismayed about how dismissive he was of the 1959 version chariot race, calling it "theatrical". First, one should not need to dismiss other people's work in order to promote his own. The novel Ben-Hur has had many previous versions, all of them worthy in their own way. Being inspired by what came before is a sign of wisdom, not unoriginality. Lew Wallace's Ben-Hur novel, published in 1880, inspired Alexander von Wagner's painting Chariot Race (1882), kept at Manchester Art Gallery. In turn, the painting inspired the chariot race in the silent 1925 film version, whose charioteer parade was re-created by Canutt in the 1959 sequence.
Second, these declarations show ignorance and disregard of the history of cinema. Given that the medium is now more than a hundred years old, it is necessary to intensify the preservation of this legacy. As founding father of stunt techniques, Yakima Canutt deserves all our respect.