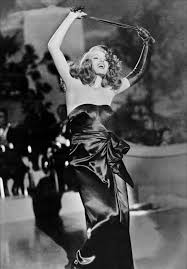 A colleague, who recently included the film Gilda (1946) in one of her lectures, asked me if I had watched it. Not only had I watched Gilda, but the film holds kind of iconic status in Spain, where it reached around 1948. My mother, six years old at the time, was too young to watch this film, but she was the proud owner of a pair of the so-called "Gilda shoes". They were tied with long laces around the legs, high heels for ladies, flat for little girls. My great-grandmother, who visited my auntie in hospital after an operation, cheered her up by singing and dancing the "Amado Mio" musical number.
Spain did not join the Second World War, partly because of the devastating effects of the Civil War, finished in 1939. When Gilda was released, there was still food rationing and we had the dubious honour of being the last fascist dictatorship in Europe. Rita Hayworth's song "Put the blame on Mame" and her sensual glove removal provoked the anger of the most conservative sectors of society. Some people even threw stones at the cinemas where Gilda was screened. Of course, the film had to pass censorship.
Censorship in media (newspapers, radio, literature…) was tight and strong in Spain during General Franco's dictatorship (1939 – 1975). In his book La censura cinematográfica en España (2009), Alberto Gil explains that all the films produced in the country had to submit the script for censorship before shooting. In addition, there was a compulsory viewing of the completed film before release for the censors, who could still forbid it if they decided so. Anything could be censored without having to give any explanation. The vast majority of the censors were members of the Catholic Church (the only religion allowed during the dictatorship), for whom cinema in itself was a "devil art". They targeted sex and "immorality", and also any "subversive" political ideas. "Subversive" meant Communism or Socialism, the ideologies associated to the Republican side (who lost the Civil War). Nevertheless, it was broadly applied to any liberal way of thinking, or considered contrary to the government: a scene from The Man Who Shot Liberty Valance (1962), in which James Steward explains what democracy is to a group of schoolchildren, was cut from the copy released in Spain. The specific languages and culture of Galicia, Cataluña and Basque country (considered "a threat to national unity") were also forbidden in cinema, unless it were to provide a "harmless folkloric background". Foreign films were censored through dubbing. Since the arrival of sound, releasing foreign films in a dubbed version had been common practice in Spain, for practical reasons. At the time, many cinemagoers were illiterate and could not read subtitles. However, dubbing was also an easy way to censor "problematic" dialogues or plotlines. In Casablanca (1942), Rick Blaine's past as a Republican brigadist in the Spanish Civil War was changed to having been a mercenary in Ethiopia. Another censorship practice was to cut scenes or to ban the release of the film.
In many occasions, censorship backfired. First, the Spanish filmmakers of the period became experts at creating "double meanings" to cheat the censors, hoping that audiences were able to read between the lines. In the comedy Bienvenido Mr. Marshall (1953), it is obvious that the Mayor's verbose speech to the villagers is a parody of Franco's discourses. In the case of co-productions with other countries, there was the "double version" practice: the copy released internationally was more sexually explicit than the one released in Spain. In La represión sexual en la España de Franco (1977), Alonso Tejada explains how the "foreign version" of Las melancólicas (1973) was released by mistake in a cinema in Santiago de Compostela, which provoked endless queues to watch it till the authorities realised.
Second, censorship cuts and alterations were clumsily done. One of the most memorable cases was Mogambo (1953). In order to hide that married woman Grace Kelly committed adultery, the dialogue was changed so that her husband (played by Donald Sinden) was her brother. However, when a later (uncut) scene showed them sleeping in the same tent, audiences were left to wonder what kind of relation these "siblings" had.
More importantly, audiences were aware that censorship existed and expected it. Knowing that a film had been forbidden only increased the wish to watch it. Hundreds of Spaniards crossed the border for a day trip to Perpignan (France) in the early 1970s to watch the banned film Last Tango in Paris (1972), which provoked a worried letter from the bishop of the local dioceses to his counterpart in Barcelona. Many times, cinemagoers saw signs of "editing" where they were none, which is what happened with Gilda. When Rita Hayworth removed her long gloves, many Spanish spectators thought that she got naked in the original version, but her striptease had been cut. Alonso Tejada explains how an unscrupulous photographer made a lot of money by selling fake photographs of Gilda naked, which he claimed were from the original film.
At a time when travelling was restricted and expensive, cinema was the only mirror to the world Spanish audiences had. Censorship was meant to control and repress their desires of change and freedom but, more often than not, it provoked imaginations to run wild.[1]
[1] Parts of this blog come from my conference presentation "The 'suppressed' nation: Galicians in cinema during Franco's dictatorship", delivered at Leeds Beckett University (November 2010) and the University of Santiago de Compostela, Spain (June 2012).