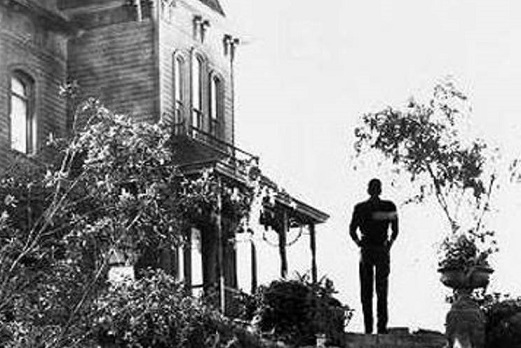 If you have never seen Psycho and do not know about the twists, stop reading now. Although, after four sequels, a remake, a TV series and endless referencing, I doubt there is anybody who does not know. In my thesis, I argued that time period and social change alters the meaning of texts. Our generation does not enjoy Psycho the same way 1960s audiences did. Modern spectators know that the film is considered a masterpiece, studied by cinema scholars. They know there are a couple of twists. 1960s audiences just knew they were going to watch a thriller by Alfred Hitchcock, who specialised in the genre.
Back in 1961, in Barcelona, my mother watched Psycho for the first time, dubbed into Spanish, in a cinema called Fantasio. She was just nineteen, on a day out with her boyfriend. She remembers there was a huge cardboard poster in the lobby, a reproduction of the façade of Norman's house, with a dark window. If you looked through, a scream was heard.
Hitchcock was originally attracted to Robert Bloch's novel (published in 1959) because the character whose perspective we follow (Marion, played by Janet Leigh) suddenly dies. In fact, cinemagoers who arrived late had the entrance forbidden. The unexpected killing of the (presumed) protagonist left spectators disoriented and wondering what would happen. It gave the story great potential. My mother still recalls her shock:
"What? Do they already kill her? Now what? A flashback?"
A similar device had previously been used in Dracula (1958), when Jonathan Harker (John van Eyssen) was killed fifteen minutes into the film. However, he was not played by a star, so his death did not produce the same impact as Leigh's. Modern audiences have a clue in the credits, as she is the last ("…and Janet Leigh as Marion"). This is indicative of a famous actor making a special appearance. However, the notion of cameo was very new in the 1960s. It was officially established after the film Around the World in 80 Days (1956). Hitchcock was also attracted to the possibility of making spectators frightened of doing something as anodyne as showering (Janet Leigh confessed that, after the film, she just bathed). This iconic scene had problems with the strict Spanish dictatorship censors, worried about Leigh's nakedness (sex was sinful). In United States, censors objected to a close-up of the toilet seat. Funnily enough, nobody complained about Marion Crane being torn to pieces.
Psycho also contributed to set the trend in modern cinema narratives to include misperception (we see events from Norman's deranged perspective). In 1950, Hitchcock's Stage Fright received complaints because a flashback turned out to be a lie. While modern spectators are aware that they cannot always trust what they see (thank you, Rashomon), classic cinema audiences assumed that, if it was visualised on screen, it was true. When Lila turned the chair, my mother expected to see a crazy old woman. When she saw the corpse, she got so scared that she accidentally bit her boyfriend in the arm. He was not excessively angry. In fact, he later became her husband and my daddy.
When I watched Psycho for the first time, I already knew about the twists. My mother had narrated me the movie (I asked). I had also read the novel by Robert Bloch, in which Norman is a chubby man in his forties, instead of youthful handsome (but sinister) Anthony Perkins. Nevertheless, the trick of a good twist is if you know about it and still enjoy the film. For many years afterwards, I showered facing the curtain. Watching Psycho knowing the truth makes you realise that you are not being cheated. The script maintains such perfect balance between hinting and hiding the ending that you wonder how come you did not guess.
In contrast, I could stand just five minutes of the much maligned 1998 Psycho remake. Remaking a film only makes sense if you have something new to say, or want to explore a new possibility. Copying the old version shot-for-shot and in colour only accentuated the actors' anachronistic mannerisms. The only good point was the promotional poster, which intelligently played with audiences' knowledge about the twist: it was a silhouette of Anne Heche in the shower against a reddish background, with the tag:
"Check in. Relax. Take a shower".
Would you?