Back at the start of my first year, a member of Information Services led us through how to use EndNote to collect and manage references and sources, and I could see the joy it could bring to researchers. The amount of material I have to deal with precludes any paper/reference cards system, and using EverNote (wonderful note-keeping software) was getting really messy. So I was instantly on board.
However, citation software is far from perfect, and I've ended up with information all over the place because there's no one tool that can pull everything together for me.
Here's what I want to be able to do:
— input data via my smartphone, the web and offline on my laptop
— use sources ranging from Amazon and Primo (my institution's library catalogue) to scanning the barcode of a book/inputting the ISBN
— organise references in the usual folder structure (again on web, app and desktop)
— search, tag, flag and annotate
— export, email, share
— at the click of a button, output an comprehensive and perfectly formatted bibliography which adheres to my department's specified style (which may need tweaking from the standard)
— be free, or really worth the money!
Actually…that is quite a lot to ask, isn't it! This kind of software purports to make it easy, but I've found it far from.
The main academic tools with both web and desktop facilities are EndNote and Mendeley. There are loads of other options, including LaTex which is for scientific researchers. After some testing — and frustration — I'm using Mendeley as my main tool.
Below, I describe my workflow. I hope it helps someone else who is looking at the jumble of offerings and wondering where to start.
From the library catalogue I save things into my eShelf and export to EndNote Web. I don't have EndNote desktop, because I object to having to pay for software that they give on-campus students for nothing (I can't afford to live on campus!), there is no 'App for that' and I just don't like the user experience.
The Amazon iPhone app will scan barcodes and bring up the item; I then put that into a WishList and use Primo to quickly find the bibliographic data that I need, export it to EndNote web, export from there and import to Mendeley. Yeah, a massive pain!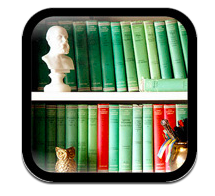 I can also scan barcodes on MyBib (a $2.99 app) then send via email for import to Mendeley — but I can't get that to work at present.
From the web, there is a bookmarklet I use to send things straight to Mendeley, and the list of possibilities there is impressive, including just clipping web pages. EndNote has a Firefox toolbar, a whole toolbar stuck onto Firefox for just three buttons — online help, an EndNote Web bookmark and a Capture bookmarklet. Clumsy, ugly and disabled.

Within Mendeley I can do everything I want — reading, annotating, grouping etc. The EndNote experience just wasn't as seamless, although I think it does do all or most of the above.
The only thing I can't do easily is the barcode scanning, so I will have to use Primo ISBN searches instead, via Safari on the iPhone (ugh, maybe it's time for Dolphin).
Another thing I like is the sharing and collaboration possibilities of Mendeley's social media link-in, although currently there's not much in my field. With things like academia.edu and LinkedIn's great groups out there as well, I have to see how things go there, but Mendeley seems pretty innovative.
This is a very personal ramble about bibliographic and citation software. I am rather disappointed that there isn't a tool that will combine what I see as all the essential and fairly basic requirements for academics.
For something less personal, have a look at this extremely comprehensive comparison of free bibliographic managers.
For now, I will continue with my rather convoluted scheme of record-keeping! How does everyone else cope with the endless referencing and record-keeping nightmare?