Since childhood, we have studied that the earth comprises magnetic field, and mathematicians have termed the whole structure in four coordinates those are north, west, south and east. Question does still exist, if according to five or even twelve dimensions does these coordinates satisfy the probabilities. Well this is a separate study case. But we do know within and around the earth is captivated by magnetism.
Our planet is enclosed by a magnetic field created due to the plasma particles emitted by the sun; the magnetic field enters the earth through Polar CUPS after escaping through magnetosphere that is a protective field of the earth.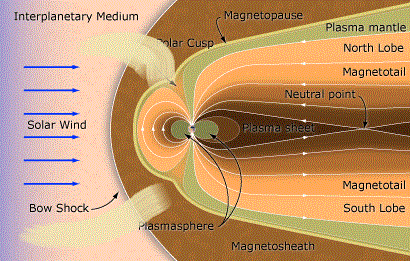 These magnetic waves disturb the electrons balance present in the earth atmosphere, aurora display is a certain result from this interaction. Finally the magnetic waves interact with the earth's metal core, excites it within the inner core and flow of liquid iron in the outer core. Gravity is another name for all this magnetic phenomena. We have known all the effects and causes of magnetism within the earth but what about in the cosmos. When studying the distance within the universe, units differ in comparison with the measurement methodology considered on earth. In vacuum space, the units are in time domain. According to string theory space is another domain according to which computation for derivations can be calculated. As the magnetic waves drift away in a rush, according to theoretical terms, there might exists some opening or portal in fifth dimension proclaiming the waves. But does time and space domain synchronize with each other or vary.
Recently European Space Agency launched an expedition with regards to study the synchronization between space and time, named Swarm. While on the other part of world Nasa is performing research for the finding of "X-point" which University of Iowa termed for the synchronized point of space and time. Future missions are also planned for detailed research and studies.
Theoretically this is possible according to math; the question remains whether reality agrees with the mathematician approach or nature have its own ways of existence.