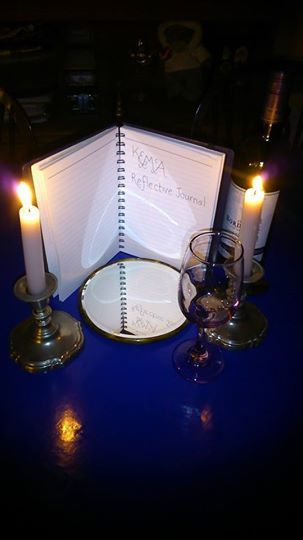 We Librarians aren't the only ones to keep Reflective Journals!
 I've already mentioned the Teaching Artist short credit-rated course that I've been attending at evening classes since February.  Well, this week is the rounding-up of all the different submissions for assessment.  We have to have an online reflective journal, an e-portfolio, and a bibliography, not to mention a lesson plan, theoretical and contextual papers.  Phew!  The e-portfolio alone is 7,500 words: I've stunned myself.  The whole blog containing all my submissions can be found here:-
http://karenmcaulay.wordpress.com/
All that remains now is for me to complete a Professional Development Plan.  That's for tomorrow.  Today I did the summary, a full day at work, and a seminar on research and bibliographic skills for our research students – it's been a long but productive day!
(As to the picture?  If you'd spent as long as I have, summarising 29 or so blogposts, you'd start fantasizing about other forms a reflective journal might take!)