The age of connectivity is upon us and with it comes both opportunity and danger. For those to whom the subtle nuances of social interaction are second nature social networking can be a gift, but for those more likely to put their foot in it than a blindfolded bull in an overstocked china shop, social networking can be a siren drawing them ever closer towards impending doom.
Before social media the separation between employer and applicant meant that one's private life rarely affected the recruitment process. Ones fetishes and foibles however odd remained safe, veiled in mystery. Nowadays that's not the case! That separation has been blown right out of the water and we have all splashed rather unceremoniously into a worryingly small pond.
As a fairly avid Twitter user I have seen my fair share of the good, the bad and the ugly …… tweets that is. One trend that I've noticed quite recently is of publicly mentioning a prospective employer. This can range from just writing their name to actually tagging them through a 'mention' i.e. "Nice one got an interview @RiverIsland next week!" or "Going to apply for a job with the @bbcacademy!"
The first time I noticed this I was a little worried but fortunately my worries were unfounded. The person in question had a glowing social presence. Their Twitter feed was awash with industry discussions and articles showcasing the individual's ability to both communicate and market themselves. For them, drawing the attention of the employer was a win-win situation.
So when shouldn't you mention an employer on Twitter?
If you're Twitter account isn't 'work safe' mentioning an employer can be a sure fire way to shoot yourself in the foot before you've even started. Recently I've seen countless examples of applicants drawing attention to their Twitter accounts even when their pages are peppered with pictures of illicit drug use, rants and all manner of profanities. If any of this is sounding familiar now is the time to clean up your act as it's estimated that up to 80% of employers already use social media at some point in the recruitment process.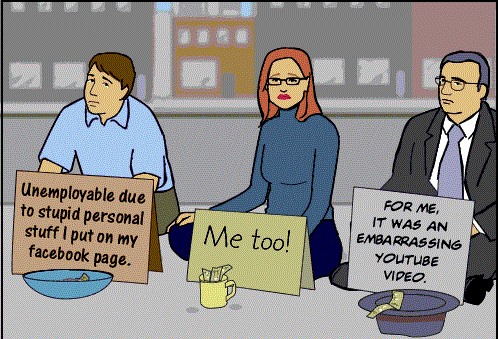 In the past I've written posts about checking your social media presence to ensure that it's showing you in the best light and about how to develop your online brand on Twitter. If you haven't read these already check them out and make sure your Twitter account adds to your CV or LinkedIn profile rather than sabotaging it!
Have you fallen foul of a social media faux pas? Or, has your social media presence helped you to bag your dream job? Join in the discussion and let us know in the comments below!