The relationship between a PhD student and their supervisor(s) often exists in a delicate balance… the fundamentals of this relationship are illustrated beautifully in the PhD comics, especially this one –http://www.phdcomics.com/comics/archive.php?comicid=1439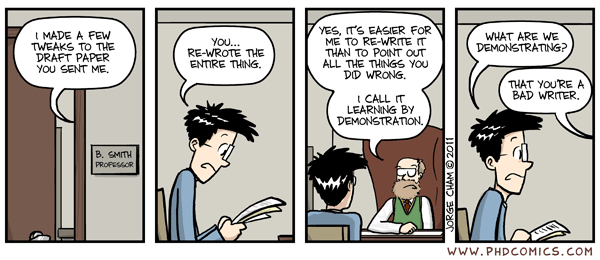 But how do you deal with conflict? Do you keep quiet and agree with everything your supervisor says and suggests? When you disagree,  as a student, how do you get your point of view across without completely sabotaging your relationship? Is a harmonious relationship necessary? Or does conflict breed better work?
I asked people who have been dealing with this kind of situation if they had any tips to share…
"I think the first rule is having the confidence to stand up for your self, and the second is knowing when to pick your battles.  There is no point breaking out into war over little things, but you have to put your foot down sometimes, otherwise you will lose complete control of your project.
There are times when my supervisor (Prof A)  asks, "why have you done that?" And I want to reply with "because you told me too", knowing fine well Prof A has simply forgotten that she told me to do something. I shrug and keep quiet,  for a quiet life.
When Prof A tries to take control (when I write anything) I let them make the changes and I then work through each one, and I decide if I like it or not. Then do my best to put it into my words. I have had to stand up for myself, explain that the project is mine and argue for my point of view.
An important point, always question why your supervisor wants to do something, don't just blindly obey. Knowing the end point they want to reach, allows you to choose how to find the answer.  9 times out of 10 the student will know a quicker/better way(s) to get to that answer (or will already have it!)."
Have you ever had to deal with a conflict? Do you and your supervisor argue on a daily basis? Or are you the best of friends?