In work, as in life, humans have an innate drive to 'fit in'; fitting in can lead to praise, recognition and give us a boost to our self-esteem. But who says, for example, that a square person has to fit into an unconventional round hole?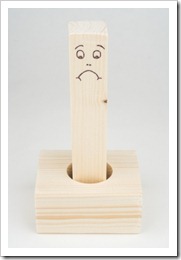 What are THEY looking for?
With job applications, interviews, and in the jobs themselves, it's logical that we seek out what is expected of us. We emphasise our relevant experiences, research aspects of the role in which we are less clear, as we strive to prove our worth.
Yet does this pressure to demonstrate how our experiences befit a position somehow overshadow what we really feel we have to offer?
What are YOU looking for?
With the pressures and stresses associated with seeking employment, people may view too much focus on 'what I want' as luxuriating in a pipedream. There will, of course, be aspects of all jobs that are less savoury. But ask yourself: is the overall work – its core values and approach – something that inspires you?
I found the following questions particularly valuable when considering career options (and don't underestimate the benefit of writing your answers down on paper):
What is ESSENTIAL in a job – the things you won't budge on? (e.g. location, salary, working hours)
What are the IDEAL elements of a job? (e.g. field of work, aspects of the role)
Where a job does not include an important 'ideal', where else could you experience this? (e.g. extra-curricular work, hobbies)
What are your greatest assets? What are the areas/types of work to which these are most suited?
Often we cannot think of the latter point without also considering our weaknesses, or 'areas for development'…
Accepting (and embracing) who you are and what you have to offer
It is arguably less beneficial to devote effort to developing our areas of weakness than it is to maximising our strengths. I have a non-existent sense of direction; if 'spatial dyslexia' was medically recognised, I would fit the diagnosis perfectly. Therefore, I'm pretty sure that learning The Knowledge and becoming a London cabby will never be the career for me – no matter how hard I may try to succeed.
Whilst we naturally tend towards certain paths in life and away from others, based on what we are 'good' and 'not so good' at, at times we can feel pressured into being a certain way or fitting a certain mould. This can take us away from doing the jobs for which we may be most suited.
Recently I read a book that was just a little bit life changing for me – Susan Cain's 'Quiet' (see http://www.ted.com/talks/susan_cain_the_power_of_introverts.html). Some messages from the book feel important to convey here:
Think about what you wanted to do as a child; you may have had more of an idea then of who you were and where you wanted to be
Notice the work that you naturally gravitate towards (are you pursuing roles in these areas?)
Harness the strength of the skills you have rather than trying to be someone you're not (are you working more 'in character' than not?)
For important and necessary elements of work that aren't your forte (e.g. public speaking for the introvert); learn ways to manage these areas and see them within 'the bigger picture'
In summary
Step back – ask yourself: What do I want and what are my strengths? Is the work I am pursuing in line with these?
In the same way that we may overly focus on what an employer wants over what we want, we can sometimes overly focus on trying to correct our weaknesses rather than optimising the assets that make us who we are.