We keep hearing that most communication is non-verbal. Even I have blogged about a hugely high percentage of how people judge you, is not about the actual words you say, at say important events such as an interview, but more on how you say it. Is this really the case though?
The original experiments from which these findings, that are quoted everywhere in popular press, were actually only derived to communicating attitudes and feelings of single words, rather than complex communication – and even then people are reconsidering the validity of these early experiments in relation to a single word. One of the main protagonists for this research into the overriding influence of non-verbal communication was Albert Mehrabian (Mehrabian, 1972). His experiments asked people to judge the positive, negative or neutral content of various single words.  Each was then read in either a positive, neutral or negative tone of voice and conclusions drawn from the reaction to that word. That along with some other experiments, meant Mehrabian to conclude that communication was made up as follows:
53% face, 38% voice, 7% words
Another social psychologist, in later follow up experiments (Michael Argyle), concluded that non-verbal communication is 12.5 times more powerful than verbal communication. Again this seems to be quoted in various articles (and with authority down at the pub quiz).
It aint what you do it's the way that you do it –  that's what gets results (well sort of)
However, subsequent, and on-going research is suggesting that these earlier experiments may have suffered from the participants adding too much weight to what they thought they should say. Newer studies are also suggesting that verbal communication is very important – certainly more than these other experiments would suggest.
At an interview though?
So if you are coming up to an interview what conclusions can you draw? Well it's safe to say that non-verbal communication does account for a lot of how people judge us – no getting away from that. So you will still need to pay attention to how you sit, stand, walk. In fact experiments have also shown that if you 'stand taller' and 'act' more confident, it can actually make you feel more confident. It is also important to speak slowly, clearly and loud enough (women's voices especially drop to being much quieter when nervous). These things are very important to performing well at interview. Giving the impression of confidence through your non-verbal communication gives the impression of competence.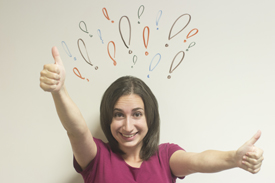 However, it's wise not to overplay the non-verbal communication at the expense of verbal communication. It is equally important. The content of what you say in relation to the job and organisation can convey depth, skills and abilities – even if the nerves don't portray that. Well-prepared and well-constructed answers in an interview will always go down well. If it came down to a final two candidates – say one with more confidence and less skill, some panels (in particular for research and development jobs) may well choose the depth of knowledge over the shinier performer.
Non-verbal communication is very important – but maybe not as important as we used to think.
References
Mehrabian, A. (1972). Nonverbal communication. Aldine-Atherton, Chicago, Illinois.
Trimboli, A., & Walker, M. (1987). Nonverbal dominance in the communication of affect: A myth? Journal of Nonverbal Behavior, 11(3), 180-190.