CAREER CHANGE
A rather extreme example of career change was in the news just recently. It was about the man in Brazil (Mr A) who as a result of a stroke (causing a change in brain activity) had become extremely altruistic and decided a corporate career wasn't for him. He now just wants to spend his time helping others:
http://www.independent.co.uk/news/world/americas/businessman-suffers-stroke-then-cant-stop-giving-his-money-away-8803950.html
We often change our feelings towards a job, as we change as we go through life. Our family life may have changed, or we may simply want different things. You may feel you've made a wrong career decision and ended up  just ended up in a cul de sac of a job and realised you need to get out. In any case, it's pretty normal to want to be switching things up in your career. These days, it's certainly not uncommon.
When you find that you're ready to try something new, these steps may be worth considering:
Break it into bitesized pieces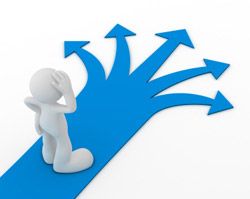 Big changes – no matter how 'good' they are, can create anxiety in us. It's worth just breaking down the big goal into smaller goals that feel comfortable to get used to bit by bit. If you're thinking about making a huge change, especially one that's particularly risky like going back to take another course to allow you to work in another job, or shifting from academic to non-academic, or maybe starting your own consultancy, you may want to start out slowly. You need to make sure the change you're making fits into your life, so talk it out with family members, work out the financials, if necessary, and start small. For example, start doing small 'pro bono' consultancy projects. This will not only help your CV, it will also help you get a taste of the career to come.
Get to know the market
Do your research on the career you want to get into. This is essential! You not only need to find out about careers/jobs in your new area from the internet, but nothing is as good as talking to people doing the work now. That way you get to find out the 'warts and all' side of a career or organisation. You may even glean some insider tips on getting in. Often people are really helpful in assisting others into a particular job.
Get a coach
Big change can be daunting. One of the best ways to ensure success in a new area is to get yourself a coach or a mentor. You can even find them online. There's a lot of research that shows that having a mentor is very beneficial when it comes to career success.  Coaches can help you stay on track, or talk through difficulties and how to overcome them. A mentor can also introduce you to others in your field. Have a look for people on LinkedIN and professional organisations. Drop an email, make a call. The worst they will say is they can't help.
In all cases, making career changes can be hard, even if they seem desirable. Making the process more manageable can make the process more enjoyable.