I hate people – what jobs can I do?
This question was asked of me a couple of weeks back. The client had worked in a university but was being made redundant – sad situation. The reason for not wanting to work with other people may have been as a result of feeling anger and hurt over losing his job. OK that's all well and good and needs addressing with other forms of coaching/counselling, but the client was adamant I helped him look at jobs that didn't require him to work with others. I think, in part, the reason was that he was also an introvert. After a career of having to make polite conversation in the coffee room, and sit in tedious committees, the man had just decided – nope. A job with minimal contact with other workers was just what he wanted. And that's what we discussed.
So if you're feeling likewise I found some handy stuff on the internet from a recruitment agency (apparently they get asked this a lot too), as well as on Yahoo education site. See it is quite common! Here are few ideas I've gleaned.
Working from home
The obvious one. Getting a job where you are your only work company, save for a few Skype calls, might be your thing. Working from home not only gives you the perfect excuse to stay in your pajamas, but it gives you the peace and quiet you need to actually get some work done. The trick here is to find a job that you can do from home!
Writer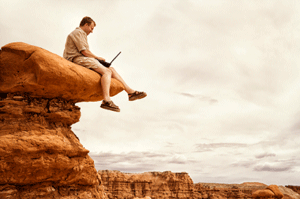 Yes another obvious one. Writing is a solitary process. The ability to block out distractions and stay focused is essential in this career. Marketing is one industry where writers and copywriters are in demand. Another one, especially of you have good command of language and grammar is Proof Reading, and it's not too badly paid. I hear the going rate is £80-100 for a paper. Can you do this from home whilst maybe working out other career ideas?
Records Management (aka an archivist)
Yahoo says "If you aren't a people person of the present, why not interact with people of the past by becoming an archiver? Often found in depths of large libraries surrounded by paperwork or quietly filing away historical information." All good if you prefer not to work in large rowdy teams.
Actuary
Most Acturial firms will say that Acturists have to have good people skills and work in teams nowadays. The traditional image of an acturist is wrong. However, risk assessment is what actuaries do, and they do spend their days analysing the habits of people and companies.  No its not totally non-people, but you will have to spend time alone with your statistics.
Medical Transcriptionist
Medical transcriptionists by their very work have to wear headphones while transcribing dictated recordings from doctors and other health care professionals. Whilst again there is people work, you'll be editing reports for grammar and clarity most of the time, so you will need to be alone – so to speak. Many MT's work at home or off-site from their clients.
If you can't beat them…..
The thing is most jobs do require working with others, even traditional 'loner' jobs like becoming a lighthouse keeper, are harder to get now. So you might need get a job in an organisation, but to make life more bearable, really look to find ways of getting some 'me-time' in your workplace (which, if you are an introvert, you may have off to a tee). Or just smile and wear earplugs if it gets too taxing – maybe?