Interviews are one of THE most stressful situations we can face. The reason is simple. In an interview you are being judged – on you. At the end of it you generally don't even get to know for certain how you did – or if they will give you the job. It might be nice if at the end of a sterling performance at your interview that the panel gave you a standing ovation and said how fantastic you are, like a candidate in Britain's Got Talent for example.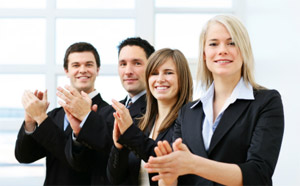 To bring up the confidence and smiles when all you can feel is nerves, cold sweats and a sick feeling can feel an impossible task. It is difficult steel yourself for any performance, even if you're not being filmed for Saturday night prime time viewing. So how can you get over the nerves and project confidence?
Here are a few tips to combat the nerves and project confidence:
1. Firm handshakes and firm eye contact
Body language manuals talk a lot about projecting confidence through your body language. I think the two main aspects to remember is a good firm handshake at the start. And a good level of eye contact throughout the interview. If it's a panel you'll need to ensure you look across at the whole panel during your answer. Making firm eye contact with the panel conveys an impression that you are confident, and confidence equates to competence.
2. Talk Loudly and Clearly
Interviews are nerve racking situations we know. But the effects of nerves can have an effect on our speech. My problem is I go very quiet and need to remind myself to speak louder. Others start talking very fast or end up using lots of "umm, uh, like, as if (repeatedly), you know and like (repeatedly). You'll need to get feedback to see what your little voice tics are. You might not notice them. I genuinely thought I was talking at the top of my voice and was only told after that I was too quiet. Now I remind myself to speak up. If you say 'like' all the time during conversation its going to irritate an interview. So once you know you have this habit, you'll be more aware in an interview and can reduce the times you say it.
3. Be Yourself
This may seem an odd point, but it's true!  If you fake confidence too much you won't come across as authentic. You must remember a time when you've been sold something by an over keen salesperson? Did the falseness seem very off putting? False confidence doesn't come across well. Its better to try and think of something that makes you calm and be yourself – but on a good day. Employers will notice if you are too rigid or if you are being yourself. Act as you would in everyday situations; just project yourself in a respectable manner towards your interviewer. Be confident in knowing that you are who you are. If you smile a lot in everyday situations, then smile a lot during the interview. If you use your hands when speaking – don't think of sitting on them. Always be yourself.
Projecting confidence during an interview is possible if you have confidence within yourself to succeed at the interview.  A little bit of self-talk before the interview, like saying to yourself you can do the job, can all help. Believe in yourself and they will believe in you too.