FOMO refers to the blend of anxiety, inadequacy and irritation of not being part of the action. There's an interesting article on this NY Times magazine on FOMO:
http://www.nytimes.com/2011/04/10/business/10ping.html?_r=3&src=recg&
The author discusses how Social Media use can give us anxiety of 'not being part' of some greater fun that our friends are having. A friend instagrams a picture of his meal in a trendy London eaterie, another writes on her Facebook wall about her amazing holiday in West Africa whilst we pop a microwave meal in and contemplate where our life is going and why it isn't as fun as everyone else.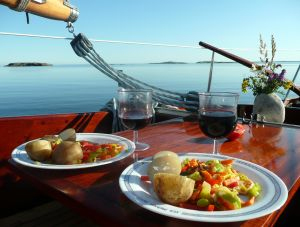 What is the 'right' decision?
The article quotes from the brilliant Dan Ariely who wrote "Predictably Irrational". He suggests that when we scroll through pictures and status updates, the worry that tugs at the corners of our minds is set off by the fear of regret. He says we become afraid that we've made the wrong decision about how to spend our time and says "When you see that your friends are sharing a bottle of wine without you — and at that very moment — you can imagine how things could be different.  It's like a near miss in real life. When would you be more upset? After missing your flight by two minutes or two hours?  Two minutes, of course" We tend to worry more about something that we we so close to and just missed out on.
Near misses in Job Hunting
Coming second in a job competition is something we will stress over much more. We maybe mull over why we didn't get that job, what we could have done to do better, or even, what we are missing out on from not getting that job, for days and maybe weeks after. This is especially true is we are still stuck in our current situation which may not feel ideal.
Additionally, people who really feel they are missing out on what they feel are 'great career opportunities' out there, really push themselves in job hunting. They are the people who follow every lead, send out loads and loads of applications – even if they're jobs that they aren't fully interested in. This can be exhausting and all consuming. FOMO can take over.
Battling FOMO
The result of FOMO is that we can always be looking through a window of what might be, what we can be doing, and what we can do to stay part of it. The positive side of FOMO is that it is motivational and keeps us part of the action. People with higher FOMO type behaviour will be the ones to try new trends, go to see new places and perhaps do things they wouldn't normally. But it isn't always good for our general health and well-being. At times, it is better to 'let go' and just stay at being focused on what is really important to our success. For example, it isn't worth it to keep going for jobs that you 'feel' you ought to apply for, or send off hundreds of CVs to jobs as a 'just in case'. This approach usually doesn't bring success and also is really energy sapping – especially as you might not be getting that much success. It's kind of realising and accepting that its ok not to go for everything, and you won't miss out – but putting energy into what YOU really want will get much better results.
In job hunting, being less 'FOMO' and more 'focused' is what will reap dividends