Your dream job is just one application away. After months of scouring job boards and quite literally selling your soul to the 'recruitment devil' you've found it! This is the one; you can feel it, the one that will make it all worthwhile. Even their office looks like a cool place to work. But how can you bag that all important interview? They're asking for a 2:1 and you've only got a 2:2. Surely one little white lie won't matter!
WRONG! Lying on your CV is a recipe for disaster. Getting caught won't just hurt your chances of getting this job; it could hurt your chances of getting any job! With this in mind CIFAS – The UK's Fraud Prevention Service have been 'leaflet bombing' universities across the country warning of the dangers of telling the odd porky pie on your CV!
According to CIFAS the number of people getting caught out lying on their CV has increased. In 2013, 324 people were prosecuted for employment related fraud, compared with 205 in 2012. Steve Girdler managing director at HireRight said that "Graduates often hear in the media or from peers that it is standard practice to inflate claims on a CV. But employers do check information, especially in graduate roles where there can be little to choose between different candidates. Errors and 'white lies' could be the difference between getting to the next stage of the recruitment process and being sent home."
With an average of 85 students now competing for every graduate job, it comes as no surprise that more and more applicants are tempted to fabricate the truth. The problem is, employers are quickly growing wise to it and running background checks have never been easier.  Your application or CV includes all of your personal information. If an employer wants to, they can very easily contact your university or college to check whether your qualifications, dates of attendance or grades are above board.
So what's the worst that can happen?
Fancy an exclusive break in a resort where the standard room size is 6 x 8 ft? Well, if you get caught out lying in your application, that's exactly what you might get!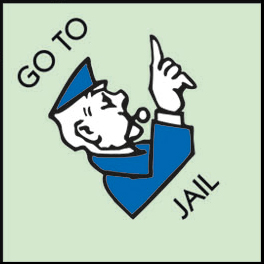 CIFAS cite an example whereby a substitute teacher was jailed for 12 weeks after falsely claiming that he had a Master's degree. When colleagues became suspicious about the validity of his claim, they checked with the university and before long the truth was out, forcing him to admit that he had bought his certificate and transcript online!
As well as the prospect of an all-inclusive stay at her majesty's pleasure, you can also find yourself on the CIFAS secure Internal Fraud Database. If an employer is a member of CIFAS (and a lot of them are) they can record the details of anyone proven to have made fraudulent claims in an application. If that happens, your details will be on their database for the next 6 years. Members of the scheme can then check any future applicants against that database. With the stakes that high is it really worth the risk?
Would you ever lie on a CV if you thought that it would get you the job? Or, are you an employer that's caught someone lying in their CV?
Please join the discussion and let us know in the comments below!