They always say first impressions last. But what does this mean for us in life? Especially in interviews?
Well partly we have to look back at Evolutionary Psychology for clues. And whilst Evolutionary Psychology is not a water tight theory, and like most theories has many critics, but maybe we can take some pointers. For one thing, they always say people make their mind up on hiring decisions in the first few seconds of meeting you. Is this true? Probably –yes.
SamCam speaks out on interviews
There's a charity that helps people dress for interview when they're on low incomes. Their website quotes the Prime Minister's wife Samantha Cameron, a supporter of the charity, on the importance of dressing appropriately for interview. She says: "People say that employers make up their mind about a candidate in the first five minutes. If you are on a low income, have no smart clothes to wear, no interview training and no confidence, it is very hard to make that good first impression"
First impressions make a lasting impression
So why are these first impressions so important? To some extent evolution may be a factor in why we all make snap decisions on a person's fit. Evolutionary Psychologist proponents argue that as our bodies and brains have evolved over the millennia we now have in-built  certain traits. Everything we do is designed to help us survive, find a mate, and reproduce. Evolutionary psychology, it is argued, can explain why we evolved to learn languages. We needed to, as it's critical for cooperation. Human beings are social animals that look to form tribes with 'like- minded' and similar people.  Hence survival acknowledges these forces but stresses the ultimate (and largely unconscious) gene's eye view of behaviour. Though it's arguable whilst preparing a research grant this might not feel quite like that.
Survival of the fittest – and smartest dressed?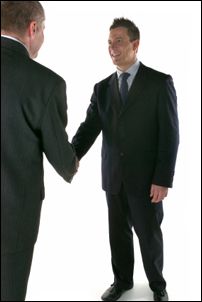 Evolutionary psychology postulates that the mind is shaped by pressure to survive and reproduce. The African Savannah was a harsh place and we had to make very quick decisions on who to trust, who to attack and who was safe. We look for little signals that help us decide. This ability is part of being human, and we use it all the time, especially when we first meet new people. We also probably use it to make judgments and decisions in situations such as an interview.
Creating the impression you want
I think Evolutionary Psychology can make us understand why we make such instant decisions. At interview, we know, people who convey confidence, self-assurance and authority will show this through their body language. But they can add to that impression created in how they dress.  The confident, competence persona will be enhanced, for example, through professional sober business dress. I stress the word 'impression' as only competency interview questions, assessment centres and psychometric testing can really probe this. We may look fantastic at interview – but it's only a superficial thing. However, superficiality is part of the interview process and that's why we all make decisions on people on how they look and dress. And that's why it's important to dress for the impression you want to make at interview