Job Hunting Tips for People with Anxiety.
Anxiety is very common in the UK and many people will experience it, and those of us that do, know how hard it can be. Pressurized situations like job hunting will bring this out more. If, like most people, you have anxiety about interviews and such like, here are  few more ideas on how maybe you can use the anxiety as a positive. I saw this article in Psychology Today and thought I would share with you and also add my own observations: http://www.psychologytoday.com/blog/shyness-is-nice/201304/job-hunting-tips-people-anxiety
Essential tips for how to manage anxiety while job hunting
The article talks about Acknowledge Your Anxiety. This really does work! People respond to us if we are authentic.  Fakery isn't liked and disguising your anxiety might not come across well. It might be better to just acknowledge it. So if you are a total bag of nerves at the interview and you get totally lost in a question, ask to stop the interview, and say, 'look, I am very nervous, but that really is because I do want this job and I think I will be good at it.' I saw this happen last year in an interview where that candidate was so nervous for a job at a university, she said just that. She got the job. It was her commitment, motivation and passion that were the main things. The nerves were seen as understandable and overlooked.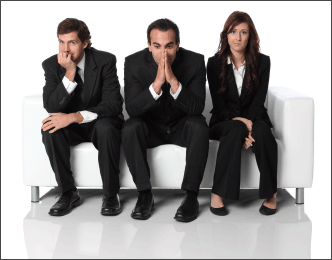 The article discussed 'Reframe Lack of Experience'. This often comes up with the many people I work with. Lack of experience causes much anxiety and worry. If you are changing career or starting out on a your first job say after your PhD etc, then you may well be having to explain your lack of relevant experience at interview. You need to refocus your thinking on to what you can do, from what you can't. Bring out the transferable skills from your studies or other jobs. This is what will sell you.
Start to Anticipate potential pitfalls in your application. If you have some areas on your CV that you need to explain you need to start thinking about how you would explain these at interview; getting sacked, being unemployed, being on a long gap break are common things that people get anxious about having to explain. The best thing is to start anticipating possible questions on this and how well you can explain it – without going into too much detail.
Many people in the job hunting process (and even in life) are in the same position. So its important to Highlight Traits Positively. You can say yes, you are an anxious person, but it had in fact been a great motivator, as the article suggests you can say something like "I sometimes can feel rather anxious. Sometimes that means I don't perform so well in an interview. On the other hand, this characteristic makes me very hard working and conscientious, which helped me do so well in school. I believe it would also enable me to be very productive in this position."
The theme is that anxiety, although it is unpleasant at the time, has positive aspects.