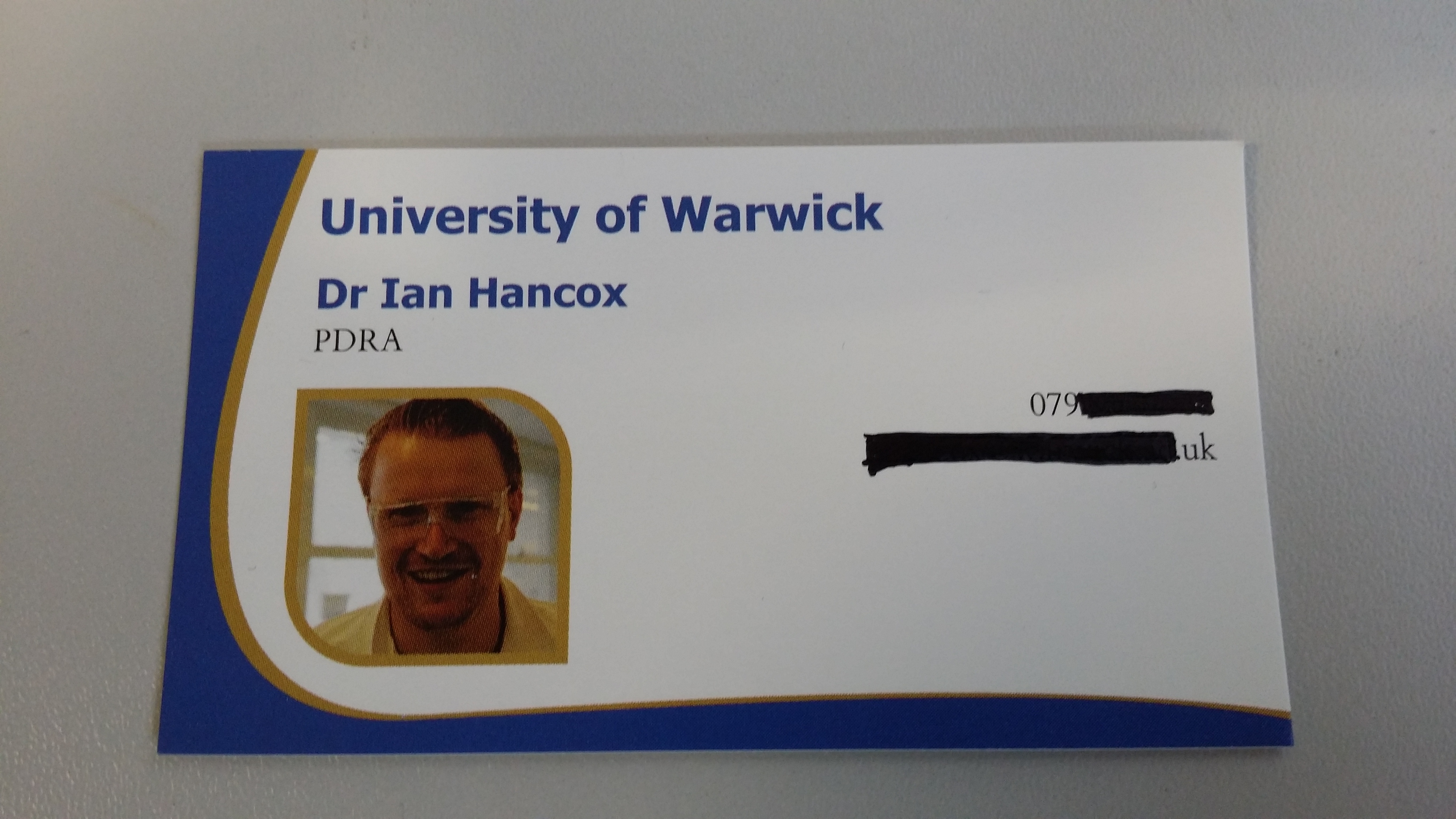 Picture the scene: You are in a hot and loud conference poster session, enjoying the free wine a nibbles whilst discussing a research area with peers from other institutions. You are there to make research connections with the leaders in the field. You get deep into conversation with one researcher from Yale, with similar opinions but also a mutual need to explore work from others' perspectives. This potential connection would justify your travel to the conference. The conversation nears its natural end, especially since others are eager to talk to your 'target', you reach into your pocket and . . .
You have left your business cards back in your office!
'No problems, I am sure I will be able to find you online when I get back' is the response from Yale's finest. They are then whisked away into another deep conversion with a researcher who has waited patiently for 10 minutes for her chance to make a connection.
Business cards have become a staple tool, providing you with an easy, quick way to transfer several means of contact to a potential future collaborator. No more awkward searches for a pen and scrap of paper! The receiver inevitably places your card in a wallet or bag, enhancing the chances of finding it on return to their institution, jogging their memory of your research conversation.
How should it look?
Business card design presents its own problems. There is a famous scene in the cult classic film American Psycho where a group of business colleagues are handing out cards, competing on design. Patrick Bateman cannot believe his boss likes another colleague's card more than his, before showing dismay that another even has a watermark on his! "Is something wrong, Patrick? You're sweating."
It may be that the design choice is conveniently out of your hands, that your institution issues a set card with colours, material, details and spacing all part of a template. However, go to one of the many specialist printing companies and there is a dazzling array of options. Do you want a white or off white background? Do you want a glossy or matt finish? How many forms of contact do you provide, beyond email and work phone number? Can you fit in a link to your research page or Piirus profile? What other colours would help you stand out and do you add them as a banner, or more of an artistic design? This is all before you decide font size and if a photo of you would help people to remember you! You might like to ask others if they think the card reflects your personality, too.
What's the etiquette?
Once you have navigated the minefield of business card design, the next step is to give your card to others. You will be offered many back in return. This opens up another problem, the etiquette of giving and receiving a card. Grabbing one from the potential collaborator and shoving it in your pocket may well offend others. Every culture has a different custom relating to giving and receiving business cards. I've learnt that in China it is key to present a card with both hands, whilst for the receiver, it is important to study the card and compliment the design. In the Middle East you must present and receive with your right hand to avoid great offence. This will often seem strange to a researcher in the UK where cards are handed out and received quickly and with little ceremony.
Make a connection & stay in touch
Whilst print business cards can help people who have just met and had a connection with work stay in touch, online tools like Piirus can act as a business card and connection tool in one. Instead of discussing work, finding connections and then providing details to stay in touch, Piirus offers a chance to instantly find others with a similar research interest and make contact. I feel both methods of finding potential collaborators will be vital to the modern researcher as s/he approaches the future of global academia.
Business cards are really useful but they also requires some careful preparation, and thought about how to use them. I would also love to hear about your own experiences with business cards, whether it be further cultural tips or what type of designs you prefer.
Note from the editor: We will be featuring further tips on making the most of conferences soon, so keep reading this blog!
Please feel free to tweet us: find us @piirus_com or with our #piirustips hashtag. You can also comment below ("Leave a Reply").
---