Plickers (paper clickers) allow you to quiz up to 63 students with just one device, an app and a set of scannable Plicker cards.
I recently used Plickers in a mini-teach on Google Voice Typing. The paper clickers are engaging, easy to use, cheap and unlikely to let you down.
Why use Plickers to quiz?
Plicker quizzing could be used in a variety of situations; staff training, teaching, careers work – any time you wish to gain feedback from a group. The uses are endless; you could even use them to vote on a post exam party date. Plickers are a quicker way to settle on a date to celebrate compared to an inbox or Doodle poll.
How do Plickers work?
Plickers are scannable shapes that you can assign to your students. The students then use the Plicker cards to interact with a question that you push to a LiveScreen view.
Students use their Plicker to push back an answer/opinion by turning their Plicker round to represent one of four choices, A, B, C or D. For example, holding the Plicker upright will register as an A, turning to the right side = B, upside down = C and left side = D.
To collect the answers from the group, the teacher scans the group using the Plickers app (via a mobile phone or iPad/android tablet). The responses are then instantly projected on to a LiveScreen.
Steps involved in using Plickers with a group:
Distribute Plickers to group (pre-assign students if you don't wish to use anonymous voting)

Push your pre-written question from the Plickers app to the LiveScreen (you can have lots of questions stored in a folder)

Student read and respond to the question by holding the shape either up, down or sideways to represent tthe answer that responds to A, B, C or D

The tutor then scans the group through the Plickers app

Voila! Student responses are immediately collated and displayed on the Plickers Livescreen
Many assume that all student have Smartphones. Maybe, but a small proportion might have a 'not properly functioning' Smartphone in their pocket. For example, a cracked screen, a small memory with no space for a new app, or a battery that doesn't last the length of a seminar. Even if students arrive with a Smart phone in perfect working order, there are still potential issues when using polling apps, such as:
A lack of (or intermittent) WI-FI to download an app
The time it takes students to download apps using up session time
Tutors not wanting to use mobile phones within sessions
Student being distracted by text messages on their phone
Questions, questions, questions
Questioning students is a recommended method to engage students and check learning.
You could also also use Plickers in a variety of activities, such as;
Exit tickets (or immediate feedback)

Discussion/debate questions 

Deciding upon revision topics

Voting on future activities
No Wi-Fi, no problem
Plickers work even without Wi-Fi. Without internet access you won't be able to display the resulting graph data through your LiveView but you can still scan your students, view the results and save the data for your own records. This affords Plickers to being used off campus on field trips, for example. 
You can add your class list to Plickers so that each student is personally assigned to their Plicker or you distribute indiscriminately so that students can remain anonymous.
Students can resuse Plickers. If you want to create your own set you can print a set of 40 or 63 scannable cards from the Plickers website, for free. If you do make your own and want a robust set, you can laminate with matte laminate to prevent the shine from lights preventing the cards being read. You can also purchase pre-laminated sets on Amazon.
Plicker, a punk rock clicker?
Dr Lucy Robinson recently tried using Plickers with her history students and writes about her findings here in Plicker the Punk Rock Clicker: Quant in to Qualt Won't Go?
See Lucy's first Plicker question to see how happy students were to use the Plickers!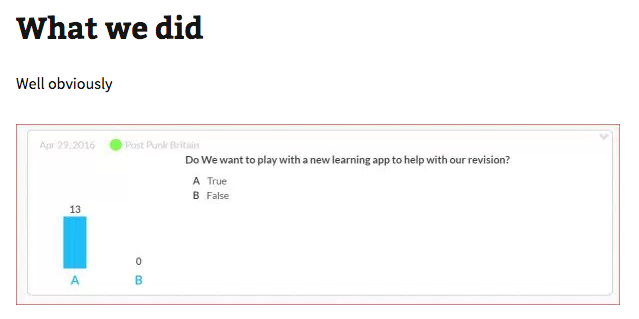 Give Plickers a try. You only need one person in the room to have a working Smartphone (you) and it's a fun, engaging (and most importantly for the tutor) an easy-to-use, reliable technology.