In the first part of this interview, Marcos Benevides talked about what Extensive Reading actually is, and how it can be implemented and assessed by English language teachers. Here, the interview continues with more information about Extensive Reading, and details of an innovative new graded reader version of the Choose Your Own Adventure series of books.
Is extensive reading alone sufficient for learning vocabulary, or should it be used in conjunction with other techniques, such as decontextualized vocabulary learning?
It can—perhaps should in adult L2 contexts—be used in conjunction with other techniques. I'm a big fan of self-study flashcards, myself. As long as we bear in mind the relative strengths and weaknesses of any particular technique, there's no reason to exclude something that works well for many people.
As for "sufficient," well, one of the strengths of ER is to build and reinforce vocabulary knowledge, particularly of very frequent words. Paul Nation, a pioneer of research into vocabulary acquisition, argues that a word needs to be encountered 20-30 times in context before it is well and truly learned. When we consider that there are millions of words in English, and billions of collocations of those words, and then we look at how many total words most students read in a language course—not to mention in a lifetime—then we get a sense of how tough it really is to develop a wide vocabulary.
One piece of good news is that a vocabulary of the 3,000 most frequent words in English is sufficient to read authentic material fluently. Unfortunately, not all words are created equal; the word "man," for example, is far more frequent than the word "invisible." To run across "man" twenty times, one needs only pick up any random short story; to run across "invisible" that many times, one might need to read several novels, or a thousand newspaper stories.
So, if you can set up an ER program that is supplemented by a well-planned focus on discrete vocabulary practice—say, sets of flashcards which cover the less frequent words in your students' level—then you're getting the best of both worlds.
What motivated you to adapt Choose Your Own Adventure books for learners of English?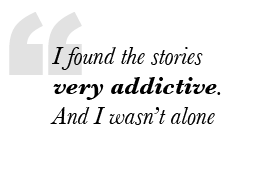 Well, I'm a former ESL learner myself, as my family moved to Canada from Brazil when I was eleven. I was a voracious reader in Portuguese, so when I started learning English, one of the first things I did was hit the school library and start looking for things to read. One of the things that caught my attention was this strange paperback series written in the 2nd person, where the reader is the hero, and makes choices leading to a variety of endings. I found the stories very addictive. And I wasn't alone—at 250 million copies sold, CYOA is tied with Sweet Valley High as the 5th best-selling book series of all time. That's higher than the Chronicles of Narnia or the Star Wars novels.
Anyway, fast forward twenty years to when I had become a teacher looking for material that might motivate my students to read. I ran across the recently re-launched CYOA series and ordered a set for my students. They loved it, even though the language was far too tough for them. So I got in touch with the publisher, Chooseco, and asked them if they would be interested in having me write graded reader adaptations of some of their original stories. They were interested, but only if we could partner with a larger publisher. So I approached McGraw-Hill, who amongst the large publishers had little in the way of graded readers, and the rest is (soon-to-be!) history.
Do you have any other advice for teachers regarding extensive reading?
Yes. First of all, visit the Extensive Reading Foundation's website. They have many ER resources for teachers, and links to many more. As well as Paul Nation, mentioned above, I also recommend Rob Waring's website. Stephen Krashen has also written a lot on the principles underlying ER. Finally, Thomas Robb's Moodle Reader site provides an excellent quiz database for thousands of graded readers, which helps to keep track of how much students have read.
Many thanks to Marcos Benevides for taking part in this interview.
Marcos Benevides is a Japan-based teacher and ELT materials writer. He co-wrote the reading coursebook Fiction in Action: Whodunit (Abax, 2010), which won both the Duke of Edinburgh and the British Council ELTon Awards. He also co-wrote Widgets: A task-based course in practical English (Pearson, 2008), and is currently the series editor for the newly launched Choose Your Own Adventure graded reader series from McGraw-Hill Education. He teaches at J. F. Oberlin University in Tokyo.