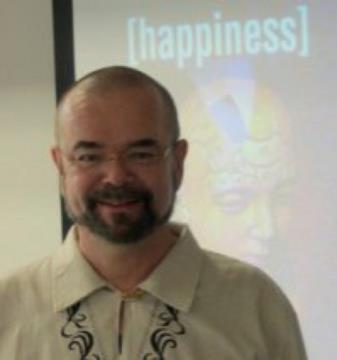 In this interview, Marc Helgesen talks about the changes the English teaching community in Japan has witnessed over the last 30 years, the importance of "positive psychology" in language pedagogy, and what it's like to be a Buddhist monk for a month. The interview continues in Part 2.

You started teaching English in Japan in 1982. Since then, what have been some major changes you have witnessed, both for better and for worse?
Hmmm. So many changes.  The biggest thing, for what we do, is that English is more real now. Everyone has the internet so they can – if they want to – connect with English speakers everyday.  Back then, trips abroad were expensive and rare. Now most young people assume they will go aboard, for vacation if nothing else, with some frequency.
In terms of the profession, I'd say at the university level there has been a real increase in professionalism. Early on, degrees in TESOL were rare. Now most universities won't even consider people without at least an MA TESOL or related.
In the eikaiwa (PLS/ private language school), I think the biggest trend as been toward chains. Eikaiwa's have always been businesses, but there used to be a lot of small schools with a dedicated teacher/owner who was trying to make a living while also making a difference (and a few other teachers, most of whom only stayed for a few years).  Now the chains are mainly businesses.  I know some have trainers who work really hard, but most schools seem less than concerned about qualifications.  This is in contrast to some other countries in Asia where PLS teachers at least have a CELTA/DELTA or other training certificate.   By the way, don't get me wrong. I think a lot of the best teaching in Japan goes on in eikaiwa schools. But overall I don't have a lot of confidence in the chains.
One other thing I have to mention is Extensive Reading (ER). It has become HUGE in Japan and many other parts of Asia.  This really has been a grassroots, teacher driven thing.  On the gaijin (foreigner) side , back in 1997, Rob Waring put together a special issue of the JALT Language Teacher on the topic.  The same year he, Julian Bamford, myself and a few others did the first ER colloquium. That has continued. On the Japanese side, similar things have gone on – the "read a million words" movement, etc.  Anyway, ER has been growing. Foreign publishers have traditionally counted on coursebooks to provide the bulk of their income. I know of one major publisher for which readers recently passed coursebooks in terms of revenue.  And coursebooks are still big for that company.  I'm approaching this not in terms of sales (I don't write readers) but am delighted to see the growth.  And I'm happy to have recently been chosen chair of the Extensive Reading Foundation (www.erfoundation.org), an organization which tries to promote ER.
English Firsthand, the textbook series that you co-wrote, has been incredibly popular in Japanese schools and universities. Are you currently involved in any further publications?
I've been very lucky to be able to focus on Japan and Asia. I think a lot of popularity has been that focus.  And we are continuing to develop it. I'm lucky that my editor, Mike Rost, has always had the attitude with every new edition, "What are we going to do that hasn't been done before?" So that let to us being maybe the first coursebook to put the CD in the book. We had one of the first websites, etc.  Right now we are looking at how to handle technology. An LMS (learner management system).  Also, the whole publishing industry is trying to figure out what will happen with ebooks. No one knows but it is exciting.
So we are still developing the English Firsthand series.
Something else that I'm spending a lot of time on trying to create a link between English Language Teaching and Positive Psychology (The Science of Happiness).  I should emphasize that Positive Psychology is real science (controlled experiments, replicable studies, etc.) and not the "power of positive thinking" which is more like a philosophy.  Anyway, I've written a lot of activities that combine positive psychology with (I hope) clear language goals.  I've got a website where folks can download them free.  It's at www.ELTandHappiness.com.  At last count there were over 50 activities, articles, posters, etc.  Is there a book in there someday?  Maybe, but at this point I'm happy to get things into teachers' hands for free.
In 2007, Paul Knight claimed that Communicative Language Teaching (CLT) was "the current dominant methodology" in teaching English as a foreign language. The English Firsthand series also seems to be written with the CLT approach in mind. Do you think CLT still dominates in 2013? Will it continue to do so for the foreseeable future?
I think CLT is dominant in Europe and the USA, but don't think it ever has been in most of the EFL world – and keep in mind I strongly believe in CLT and think that is reflected in my books. But western-published ELT books probably account for 20-30% of ELT books in Japan. The vast majority are those thin books from the Japanese publishers.  Most are either not communicative or not very communicative.  Also, even among western-published books, many are used in different ways. I remember once talking to the editor of a best-selling text from a foreign publisher. She said, "I think it is popular because it is whatever you want it to be.  If you are communicative, it is a communicative book. If you are audio-lingual, it is  ALM."  My response way, "Sort of sounds like a book that doesn't believe in anything."  I believe in CLT but don't think it is the only game in town.
Tell us why you decided to become a Buddhist monk for a month. Is it an experience you would recommend?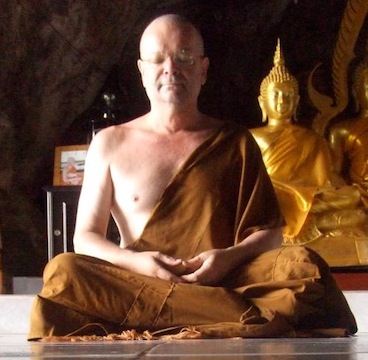 It was a fantastic experience. I spent a month in a temple in northwest Thailand on a program called "monk for a month." I ordained as a novice monk.  I had the same lifestyle as the Thai monks except that the dhamma (teachings of the Buddha) was in English.  It was highly disciplined: up at 4:00 for chanting, walking alms (collecting donations from laypeople) barefoot, rain or shine, meditation, study, no food after noon.  Interestingly, a lot of the things I thought would be tough weren't (and vise-versa).  No food between noon and sunrise the next day – no problem.  No beer –and this was a hot summer in Thailand – not and issue at all.  Those beautiful, flowing saffron robes – a total pain to wear. There are very specific rules about how to wear them. Kind of like kimono in that sense.  The chanting in Pali (the language of the Buddha) and not understanding what I was saying — that was frustrating. I found it interesting that my brain would sometimes match sounds for Pali into Japanese, even though the translation had nothing to do with the meaning:  bhagavato, arahato ("hato" that's pigeon!)  samma ("Samma" – a fish!)  san buddhasa ("san buta" – Three little pigs).
One of the issued for me was hair. I had figured out how long it would take to grow my hair back.  I learned what an "attachment" (in the Buddhist sense of the word) it was. So now, 2 1/2 years later, my hair is still very short.
The program I went on no longer does temple stays in Thailand. But they do have a "monk for a month" program in India.  And they have a "Muslim for a month" program with Sufis in Turkey. Both sound fascinating (http://monkforamonth.com/).
If folks are interested, there's a PechaKucha (short, 6:40 minute) presentation I did on my experience at http://tinyurl.com/marcmonk.
Marc Helgesen is professor in the Dept. of Intercultural Studies, Miyagi Gakuin, Sendai. He is the author of over 150 books, textbooks and professional articles on ELT and has done teacher training workshop on five continents. He is Chair of the Extensive Reading Foundation. Beginning Summer 2013, he will teach a course on Positive Psychology in ELT in the grad. school at Nagoya University of Foreign Studies.
Don't forget to check out Part 2 of this interview!