Generally, I use a text editor called, er, TextEdit to write on my Mac. There's nothing but a simple white window, so I have fewer distractions.
I found I needed a way to keep track of characters and locations, and linear text files were getting too messy. I'm writing a novel set in the world of surfing, and the mixture of real, semi-real and totally made up beaches is a nightmare to keep track of, let alone all the different characters. So, although I'm firmly a lists sort of person, I'm trying out some mind-mapping software. I'm using iThoughts, an app for the iPhone (and iPad), which has pretty good reviews on the App Store.
As my novel grows and changes, it's great to have a map of characters, because I can group and link them in accordance with their relationships to others and see it all at a glance. If I need to remind myself what a particular minor character looks like, where someone's nickname has come from or who only ever wears black, it's there in the notes.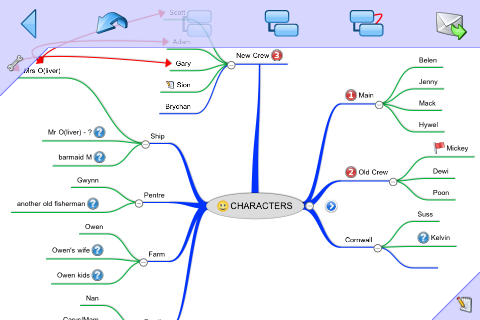 I also have a node for non-characters — names I would like to use, little characteristics or personality traits that I would like to incorporate somewhere. Then if I have a new character come into the story, I can draw on this well of half-formed ideas. (That way those little scraps of ideas don't get lost or wasted!)
iThoughts can export to loads of formats; I just grabbed the first free desktop software that it was compatible with, FreeMind. MyMind and MindNode are also recommended (by my brother, who uses it on his education course). A desktop version means I can see my maps on a bigger screen with all the nodes expanded and notes in a more readable size. I can also print it out and take it to supervisor meetings, which helps both of us.
Some other uses I can think of for this software are:
– plot structuring
– brainstorming scenes
– what if? testing of scenarios
It's also really handy for doing a quick bit of work when you don't have time or opportunity to do any 'real' writing. I can play around with the colours and associations, add a few notes, do a quick character or location sketch, or just enjoy looking at the world of my novel, laid out on my phone in pretty colours with bubbles and icons.
If you know of any good mind-mapping techniques or software, please post them in the comments. I'm new to this and would love more ideas on how to take advantage of it!